Simple Battery OCGA 16-5-23: What is Simple Battery Georgia?

In the Peach State, both simple misdemeanor battery charges exist and also aggravated battery charges at the high and aggravated standard utilized under the Georgia Code. This special statutory modifier applies to those types of injuries or to certain kinds of victims, like elderly (age 65 and over), police or detention officers, sporting officials, and those in nursing or assisted living facilities.
How much is bond for assault and battery in Georgia? Bond amounts can vary widely, depending on county or state prosecutor guidelines. Usually the bond amount for aggravated assault in Georgia is $1,000 or more, but less than $5,000.
Georgia battery laws (like most criminal statutes) add on minimum mandatory jail time as the number of repeat offenses increases by the accused person. Battery crime punishment in Georgia can run from 0 days to serve to 20 years, per victim, in aggravated battery crimes.
Is simple battery a felony in Georgia? A simple battery criminal charge is 100% a Class B misdemeanor Georgia in its punishment scheme. For the true first-time offender, most convictions are usually punished by a fine and a probation period.
Most first offense GA simple battery offenses under OCGA 16 5 20 simple assault are not punished by imprisonment. The same accused person could theoretically have more than one simple battery charge against him or her, but most prosecutors tend to review the person's criminal history and charge second offenders under the standard battery statute wherever possible.
Will I be Charged With Simple Battery in GA?
The offense of simple battery is limited to situations where a "touching" of the victim's body or clothing took place. Plus, it must be when he or she "Intentionally makes physical contact of an insulting or provoking nature." Simply stated, when one person acts offensively against another person, assault and battery laws usually will be violated.
What is Simple Assault in GA?
To contrast this crime to simple assault Georgia crimes under OCGA 16-5-20, these crimes occur when a person, "(1) attempts to commit a violent injury to the person of another; or (2) commits an act which places another in reasonable apprehension of immediately receiving a violent injury. Criminal lawyers near me may describe simple assault OCGA as a "swing and a miss" statute.
Examples of simple battery include shoving a person in a physically insulting manner, placing a hand on a woman's breast, and unzipping a man's pants in front of other witnesses.
One major issue can be when a special "class" of worker is the victim. Examples of special workers include a police officer, a detention officer in a jail or prison, an emergency worker like a fireman or ambulance attendant, or even a driver or operator of a public transit vehicle (MARTA bus driver or train operator), or public electrical energy employee (Georgia Power or similar).
Battery vs Simple Battery: How a High and Aggravated Misdemeanor Georgia Differs
All simple battery cases under OCGA 16-5-23, and any first "regular" battery case under battery OCGA 16-5-23-1 with minimal bodily damage (e.g., a bruised eye) can have zero jail time, if this is a first offense. A simple battery vs battery definition for misdemeanors is limited to the most benign of encounters between parties when no visible mark or bruise is showing (on simple battery) and very minor damage for battery offenses.
High and aggravated (H&A) in Georgia carries more sinister limitations on good time credit as part of sentencing. The general "battery" statute contains multiple ways than what would normally be a battery offense (on a first or second violation) can receive "high and aggravated" sentencing.
The normal misdemeanor punishment [with jail time up to 12 months to serve, and all (or almost) all probated] is altered when a sentence is imposed under H&A provisions. OCGA 17-10-4 (b) states as follows: (b) Notwithstanding any laws to the contrary, a person sentenced for a misdemeanor of a high and aggravated nature may earn no more than four days per month earned time allowance.
Explaining the differences between battery crime examples. Since the simple battery misdemeanor is almost always a 1st offense, those with other prior domestic violence issues or prior assaults will find themselves facing a more serious offense than GA code simple battery. This means that a type of battery charge jail time crime is usually brought when prosecutors find a repeated or systematic use of force or intimidation against others.
Misdemeanor Battery Meaning. Yet, on a second battery charge sentence, ten days is the minimum jail time. On a third battery crime in GA, the offense moves to felony grade, with from 1 to 5 years in state prison. So, the reader can now see that no simple definition of battery exists, and much "discretion" can go into a district attorney's charging decisions.
The Difference Between Battery and Aggravated Battery
The language of OCGA aggravated battery begins with: "A person commits the offense of aggravated battery Georgia when he or she maliciously causes bodily harm to another by depriving him or her of a member of his or her body." It goes further to connect the first phrases to "by rendering a member of his or her body useless, or by seriously disfiguring his or her body or a member thereof."
This entails either the perpetrator's intent to murder, or intentionally cause physical harm of a grievous nature, or uses an object, device, or instrument (e.g., golf club), that results in serious bodily injury. If convicted this is almost always being found guilty of a felony unless your criminal defense attorney can obtain a lesser-included offense misdemeanor alternative for the jury to consider.
Intent can be express or implied. That means that the defendant may have yelled out to the victim, "I'm going to kill you!" (which is expressed), but also if the assailant repeatedly chokes, kicks, or beats the person in a manner that could result in a fatality.
An aggravated battery Georgia sentence handed down upon conviction can include aggravated assault jail time. The length of incarceration can be for decades, just like an aggravated battery sentence, with certain types of victims. Commonly in metro Atlanta areas, this occurs by discharging a firearm at or close to the victim.
Is Simple Battery Considered Domestic Violence?
Only when some current or prior "residential" relationship occurred between the accused and the victim can the domestic violence Georgia statutes come into play in an OCGA battery GA case. Absent that former or present domicile arrangement between the two persons, the Georgia DV laws will not apply.
Call Today for a Free Lawyer Consultation on an Assault or Battery Case in Georgia

Legal book co-author Cory Yager has successfully defended over 2,100 clients in the Peach State, on either misdemeanor or felony charges. Plus, when Mr. Yager served as a law enforcement officer with Cobb County police and Roswell PD, he responded to hundreds of domestic violence GA cases and all types of felony and misdemeanor battery crimes.
Mr. Yager is joined by Larry Kohn and William Head, who are also both Super Lawyers and rated as two of the Best Lawyers in America by US News & World Report. If you are ready to fight your criminal charges, Super Lawyer and Martindale top-rated Cory Yager is ready to assist you. Contact the law firm near me that travels statewide to defend clients.
Super Lawyers - Our Team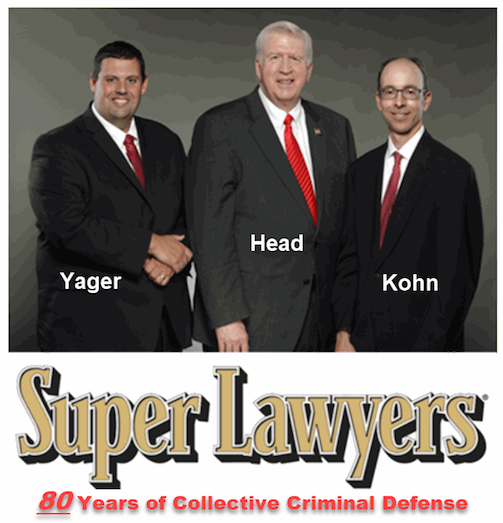 Kohn & Yager offers a free consultation, payment plans, and a targeted initial case evaluation. Please call today to (404) 567-5515, so that our lawyers near me can guide your bonding out of jail and protect important evidence that may acquit you. Our criminal justice attorneys can speak to you 24 hours a day, by virtual call or in person, using social distancing.
DISCLAIMER and PRIVACY POLICY
The information you obtain at this website, or from Twitter, Facebook, or a YouTube video download, are NOT legal advice. Nor are our image resources, infographics, charts, or blog postings to be considered a form of legal advice for any specific case.
Online content is merely general information, and is not, nor is it intended to be, legal advice. You are well advised to consult an attorney for legal advice regarding when and how you were charged, which offenses you are facing, and what immediate action is required to be taken.
Plus, after you fill out our client intake forms, which asks dozens of questions about your family, place of employment, and prior criminal records, we can give targeted advice. Until a lawyer from our law group can view your paperwork, our legal professionals will not be able outline the main protective steps that need to be taken to best shield your rights and driver's license. It depends on your individual situation and circumstances.
Our criminal justice lawyers in Atlanta invite you to contact us and welcome your email communication, chat responses, phone calls, letters, and electronic mail. Our law group maintains a strict privacy policy, and (if you do not hire us) our staff will shred your paperwork. Contacting us (through any communication method) does not create an attorney-client relationship.
Please do not send any confidential information to us until such time as an attorney-client relationship has been established. At that time, you and your attorney will sign an agreement on the terms and conditions of our employment.