In reviewing Atlanta criminal defense lawyers listed in websites on the Internet, dozens of law firms claim to have the top criminal lawyers in Georgia. It quickly becomes apparent that such boasts cannot be backed up by carefully comparing results published by the consensus, top lawyer ratings services.
After comparing credentials and claims, if the owners of a website have gone beyond pure puffery and audacity to falsely self-proclaim being the best attorneys in Atlanta for criminal defense, you must then decide if you would trust your most vital legal matter to that criminal defense attorney GA. Do a little research to see how their claims can be made.

Clearly, all Atlanta justice lawyers who claim to be those criminal defense lawyers in Atlanta, GA cannot each be the "best." Claiming to be the best criminal defense attorney Atlanta without having the objective credentials to back that up takes quite a bit of chutzpah.
Only one criminal defense law firm in Atlanta, Georgia has cumulative attorney ratings of over 30 Super Lawyers recognitions for its three partners, and are all published law book co-authors. Atlanta lawyer Bubba Head and his law firm partners have been named to more "best criminal attorney" lists than any other active criminal law practice Atlanta litigation firm its size in the Peach State.
Plus, other credible rating services like Martindale-Hubbell and Best Law Firms in America have recognized our credentials as criminal law professionals who are the best criminal lawyers in Atlanta and the State of Georgia. When facing criminal charges, as you decide which Georgia criminal lawyers to call, remember that our Atlanta top attorneys offer a FREE lawyer consultation to discuss your criminal offense.
Top Criminal Defense Attorneys in Atlanta in One Law Office
Georgia criminal defense lawyer Bubba Head hired partner Larry Kohn in 1996, while he was in law school. The Atlanta criminal defense attorney then hired veteran ex-cop Cory Yager in 2007, after he graduated law school and ended his law enforcement career of nearly a decade. The three criminal lawyers in Atlanta are nationally known for aggressive, relentless criminal law representation.
Criminal defense attorney Atlanta Cory Yager is the criminal law commentator for breaking legal news stories covered by the WSB Radio evening program, "Word on the Street." Hosts Mr. Shelley Wynter and Ms. Malani Kai ask Attorney Yager (and his criminal justice law partner, Larry Kohn), the questions for which WSB listeners in Georgia want answers.

By the way, insofar as client ratings of criminal justice professionals are concerned, Georgia defense attorney Larry Kohn also has over 520 AVVO 5-star reviews to his credit. When the criminal offense issue for WSB's nighttime show is a sex crime (e.g., prostitution or child molestation), Mr. Kohn will be supplying the radio station's answers. So, when criminal law questions are asked, criminal defense lawyer Atlanta, GA Larry Kohn and Cory Yager are the station's go-to criminal law experts.
Criminal Law Book Co-Authors Since 1991 in National and State Publications
In January of 1991, William Head and SC DUI lawyer Reese Joye self-published the first national drunk driving book that outlined 101 ways that lawyers for DUI near me beat DWI-DUI charges. The book, 101 Ways to Avoid a Drunk Driving Conviction, sold 14,000 copies, and is still very popular on Amazon and other reseller sites. That was the first full year Mr. Head became a criminal lawyer Atlanta, after his first 15 years in Athens GA.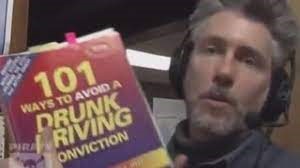 Then, in 1995, he self-published The Georgia DUI Trial Practice Manual. This book quickly became a "must-have" guide to Georgia DUI laws. The popularity of this legal guide to aggressively fighting DUI cases led to Harrison Company purchasing publication rights to the book in 1998.
Then, in 2002, Harrison sold its company assets to West Publishing, including the rights to publish Mr. Head's manual. Today that company is known as Thomson-Reuters. That treatise on DUI laws in GA is still co-authored by William C. Head and is now approximately 1500 pages in length.
Mr. Head also self-published The DUI Book in 2006 and helped lawyers in more than a dozen other states self-publish state-specific versions of the book for citizens facing DUI charges in their respective states. Then, in 2016, both Cory Yager, criminal defense attorney Atlanta, GA, and Larry Kohn, criminal attorney Atlanta GA, were asked to write separate criminal law chapters in two different books published by Aspatore Publishing, a division of Thomson-Reuters.

DUI Defense by Criminal Defense Lawyers in Atlanta, GA
The Top Contender Among Atlanta Criminal Attorneys. Without much doubt, the Atlanta criminal defense lawyer known for being the national and state DUI law best attorney in Georgia is William C. "Bubba" Head. Named as the top DUI lawyer in America by the 800-member National College for DUI Defense in 2003, he has also been named multiple times (since 2009) by Best Lawyers in America as the Atlanta criminal attorney for their annual top listing, including for 2022.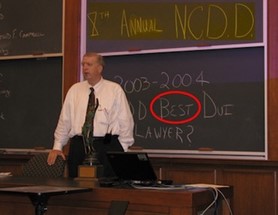 A Life Member of NACDL (the National Association of Criminal Defense Lawyers) and a Life Member of the GACDL (the Georgia Association of Criminal Defense Lawyers) for over a quarter century, Bubba Head was one of the original 12 founders of the NCDD (the National College of DUI Defense).
He also served as a Regent of the NCDD for a total of 5 years, starting in 1995. In addition, for the first six years of that non-profit's existence, operations for the National College were run from his Atlanta, GA law office.
The 45-year veteran attorney is a Double Dawg from the University of Georgia, meaning that he obtained his undergraduate degree (1973) and his law degree (1976) from the Athens, GA university. This law practice leader of criminal lawyers Atlanta, GA also has been a donor to UGA through the President's Club since 1979. Plus, in the 26-year history of NCDD.com, he is one of fewer than 100 DUI attorneys nationally who is Board-Certified in DUI Defense.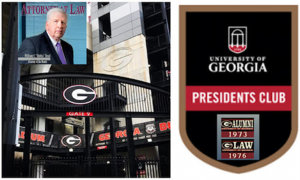 Criminal Defense Attorney in Atlanta, GA. Both of our litigation team's other Atlanta criminal defense lawyers have never worked with any other criminal lawyer in GA than William Head in their professional careers. Larry Kohn has also been named by Best Law Firms in America and Best Lawyers in America to their best criminal defense attorney in Atlanta lists for top DUI attorneys.
Martindale-Hubbell Is America's Oldest Attorney Rating Service, Founded in 1868
Cory Yager, criminal attorney in Atlanta, GA, has been top-rated by Martindale-Hubbell at their top level, 5.0 out of 5.0, and the "av" preeminent highest ranking. Likewise, for over half of his legal career. William Head has enjoyed those highest possible attorney ratings for top lawyers in Atlanta for nearly 30 straight years in a row.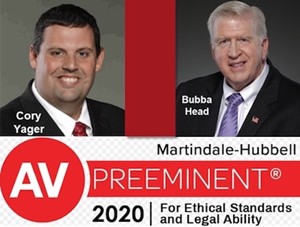 Another lawyer ranking service, Super Lawyers, was acquired by legal publishing giant, Thomson-Reuters, in 2010. The Internet start-up had been in business for about 8 years before being acquired. All three of our criminal defense attorneys in Atlanta, GA have been included for multiple years in the Super Lawyers legal professionals' ratings.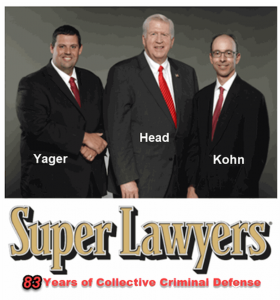 Discuss Your Criminal Case With Veteran Criminal Defense Attorneys in Georgia
You should only retain Atlanta trial lawyers with proven records for success at trial, and the undisputed, consensus best-rated legal counsel for your attorney in Atlanta GA. Why enter an attorney client relationship and pay legal fees for anything less than the best attorney in Atlanta, for your legal representation?
After reading and reviewing all the above information on our three criminal defense lawyers Atlanta, GA, you now need to compare these resumes and credentials to any other legal firms and determine the best attorney in Georgia for your criminal law case. With a FREE consultation, what are you waiting for? Call today at 404-567-5515 now, 24 hours a day.
Plus, when your legal advice is coming from the recognized leaders in the legal community, why not hire a best criminal lawyer in Georgia? At our litigation office, our criminal lawyers in Atlanta, GA look at the location of your court case, the type of crime or crimes you are facing, and then suggest the criminal attorney Atlanta Georgia from our three partners.
Copyright GeorgiaCriminalDefense.com 2021. All Rights Reserved.