DUI Attorney
By: Larry Kohn, Criminal Attorney Atlanta GA With Over 470 5-star Atlanta DUI Attorney Ratings From AVVO.com
Drunk driving from alcohol leads to most Atlanta DUI arrests, not drugs. Atlanta DUI lawyer Bubba Head wrote the #1 book on Georgia DUI laws in 1995. Now. the criminal lawyer Atlanta GA co-authors that same book, and is currently editing the 2020 edition for Thomson Reuters, the world's largest legal book publisher.
The criminal defense attorney has been handling felony and misdemeanor DUI cases in Georgia since 1976. For nearly 20 years, he has been Board Certified in DUI-DWI Defense by the National College for DUI Defense.
He has been on local television news about representing clients in celebrity DUI cases for the last three decades. Plus, national media, like People magazine, interviews him about other famous people with DUI or other criminal charges.
Recently, William Head, DUI attorney Sandy Springs, GA was voted best DUI lawyer Atlanta GA by Best Lawyers in America, twice (Lawyer of the Year 2012 & 2017). Plus, Super Lawyers has him top-rated for the last 17 years in both DUI defense and personal injury. Martindale-Hubbell has rated him at their highest level for over two decades.
The best DUI lawyer Atlanta recognitions from Best Lawyers in America:
Other lawyers in Atlanta that defend driving under the influence cases and related criminal charges rely on this drunk driving book in Georgia to assist them with answers to the toughest Georgia DUI law. Whether their questions relate to DUI penalties, license suspension, mandatory jail time for a 3rd DUI in Georgia or what type of driving permit would be available after a DUI conviction, the answers are in that book.
Fighting DUI Atlanta GA Criminal Charges
Other publications and organizations have named the veteran litigator as a best DUI attorney Atlanta, such as Atlanta Magazine, Georgia Trend and AVVO. In 2003, by vote of the entire membership of a national DUI defense lawyer organization (NCDD.com) he was voted America's best DUI attorney.
Part of that national recognition came from Mr. Head's leadership role in writing his first book (with the late Reese Joye of South Carolina) in 1991. That best-selling manual taught citizens accused of impaired driving 101 ways to win their DWI-DUI case. Things like finding DUI police report errors were outlined, so that accused drunk drivers could see how top criminal attorneys near me won cases.
Shortly after that book being released, the Columbus GA native sponsored the first training courses for both the NHTSA field sobriety tests (July 1994). Then, he sponsored the initial 4-day course for DUI attorneys being certified to operate the Intoxilyzer 5000 breathalyzer device in October of 1996. Today, the 5000 model is no longer used, and the CMI Intoxilyzer 9000 is being used in Georgia/
In the Peach State, beginning in 1992, he helped organize a group of dedicated GA criminal attorneys into a think tank for fighting DUI GA cases, and that group of DUI lawyers now has nearly 100 participants, and was modeled after the Joye-Cole Group that was first convened in 1990, in Charleston SC.
ABOVE: William C. Head, DUI Atlanta lawyer at Cambridge, Massachusetts in July 2003, when the award was given.
Comparing a GA Reckless Driving vs DUI Georgia for Lifetime Impact
For some of our clients, a reckless driving offense is not a viable option. He or she may be in a job for which either conviction will terminate employment.
Pleading guilty to reckless driving adds four (4) points to the GA DDS demerits point system. A nolo contendere plea to reckless driving GA adds is 0 points but is tough to get in many Georgia courts.
While a DUI suspends the license 100% of the time, adults age 21 and over pleading to reckless driving does not trigger a suspension of a Georgia driver's license, by operation of law. If points on your record push you past 15 points in the prior 24 months, adult drivers could have a "points suspension." However, and driver under the age of 21 at the time of the plea or being found guilty will suffer a license suspension in GA.
Because the first offender act that helps many felons and misdemeanants get a fresh start by record restriction is barred for GA DUI convictions, many people must fight their DUI in GA. Plus, there is not a conditional discharge in Georgia for driving intoxicated. By comparison, simple possession of marijuana is open for conditional discharge GA treatment in most courts in Georgia. For more details on GA DUI penalties, see the chart below.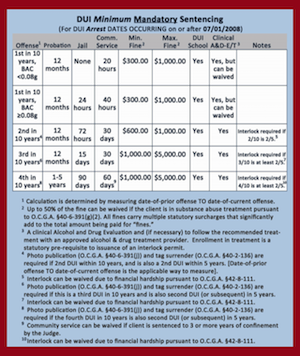 The Top 21 Client Questions About DUI Cases in Georgia
Is a DUI a felony in Georgia? No, except for a 4th offense within the last 10 years.
After being pulled over and arrested, can you get mailed a DUI ticket? After an accident, a few may have this happen, but it is exceedingly rare.
Who determines the best DUI attorney in Atlanta GA? Much like other businesses, a consensus vote. year after year, is the starting point in comparing lawyer ratings.
If I am over the Georgia DUI limit, do I have a chance of winning? This question does not always get asked, but the answer is YES. The top DUI defense attorneys regularly obtain reductions or even a DUI dismissal when the law enforcement officer makes errors.
What are the chances of beating a DUI refusal? In various firms, these statistics are not maintained, but with thousands of cases under our three partners' respective belts, that answer has been a resounding yes in most of our cases handled.
What is the DUI less safe Georgia penalty, if I am convicted? On a first offense DUI, no jail is mandated except for drivers who were over the legal limit for alcohol, at 0.08 grams percent or higher. This depends on the person's prior DUI conviction history. See the chart below for the Georgia statutory minimum mandatory punishments. Just comparing the mandatory jail time may be helpful to know, for repeat offenders: 2nd DUI in GA (72 hours); 3rd DUI in GA (15 days); 4th DUI in GA (90 days). Plus, the community service jumps in a similar fashion, from 40 hours on a first DUI offense in Georgia, then 240 hours for a second offense DUI or third offense DUI, and 480 hours for a fourth offense DUI in GA.
I ride a bicycle, and sometimes after drinking, so can I be charged with cycling under the influence? Not in Georgia, since a motor vehicle is required. This eliminates horses and bikes without motors.
I was arrested 2 years ago, so what is the DUI statute of limitations Georgia? This question comes up in some metro counties that are very slow to process cases. The answer is complex, because the filing date with the clerk of court can be for up to 2 years after arrest. Certain strategic moves, like filing a statutory speedy trial demand under OCGA 17-7-170 may be attempted.
Where can I read about DUI dismissed stories? Various attorneys in Atlanta and other cities post DUI trial victories or even some negotiated plea deals. The better plan of action would be to narrow down the best attorneys and then talk to those legal professionals about cases SIMILAR TO your facts.
Is there a book about how to beat a DUI case? Yes, as identified above, Bubba Head co-authored a book called 101 Ways to Avoid a Drunk Driving Conviction in 1991. More than two decades after its publication, the one-of-a-kind book on how to beat a DUI is still being discovered.
Can a DUI lawyer Atlanta GA tell me how to get a copy of your DUI police report? Yes, but this is usually possibly by contacting the police agency that arrested you about 10 days after the arrest.
Is there any manual for how to fight a DUI without a lawyer? No, because that would be called "A Fool's Guide to Jail." Very few criminal cases are as complex as those dealing with driving intoxicated.
If I had child passengers, how much is a child endangerment ticket, if convicted? A DUI child endangerment case is among the very toughest our attorneys in Georgia face. When multiple children under age 14 are passengers, this can lead to a catastrophic sentence with lots of mandatory jail and loss of driving privileges.
Should I file for an ALS hearing Georgia or opt for the ignition interlock device (IID)? The answer here can only be, "it depends." For certain, you need to file the DDS appeal letter within 30 days after the date of arrest, if you are in doubt. Everyone can file this letter and send it by certified US Mail. If you file this on your own, you COULD be costing yourself the ability to drive for a full year. Call an experienced GA lawyer!
Will a conviction of a Georgia resident out of state DUI offense be reported to DDS GA? Yes, due to federal mandates that all states are to communicate all convictions, else lose federal funds.
What is the Georgia DUI limit for alcohol for drivers age 21 and over? Assuming that driver is not operating a commercial motor vehicle (CMV), he or she will be permitted to have up to the 0.080 grams percent limit. CMV driver are restricted by federal law to no more than 0.04 grams percent.
What does it mean to be charged with a habitual violator GA felony? The statute for habitual violator, OCGA 40 5 58, calls for up to 5 years in state prison for violating the HV law. In addition, the person's ability to drive is REVOKED, not merely suspended. This
What is DUI less safe? The DUI less safe Georgia code is O.C.G.A. 40-6-391 is found in subsection (a)(1) for alcohol and (a)(2) for drugs. Georgia DUI less safe is a phrase unique in the nation, just like California's unique "deuce" (which means DUI).
If I have been convicted, and then have a DUI probation violation, will I go to jail? Most likely, since the judge will want to send a message about risky behavior. The author of this article handles about 90% of our law group's probation revocations.
What's different about being arrested or charged with a DUI or DWI in Atlanta Municipal Court? First, it is the state of Georgia's busiest traffic court. Our lawyers in Atlanta are there almost daily. Second, it is a good place to try to negotiate your case.
Where can I find the full Georgia DUI statute , under OCGA DUI 40 6 391? The link added here gives you that online source.
More Information About Our Three DUI Legal Advocates
The veteran Atlanta DUI defense attorney is known nationwide and has traveled to other states when hired by clients who find his law office information online. The author, Mr. Head and ex-cop Cory Yager, DUI lawyer Sandy Springs, are the trio our DUI defense lawyers who run a law firm with its primary office location at the Prado Shopping Center on Roswell Road in Sandy Springs Georgia.
Our three award-winning DUI lawyers in Georgia travel the entire state of Georgia to help clients who are trying to avoid the "DUI unemployment trap" than many who plead guilty encounter. Other Fulton County DUI lawyer offices for the law group can be found in downtown Atlanta GA and Alpharetta GA, plus a Marietta GA office for Cobb County cases.
Call us 24 hours a day: (404) 567-5515. Free consultations on all DUI and other traffic cases. What do you have to lose, by getting your FREE lawyer consultation?