H1B Visa Immigration
By: Larry Kohn, criminal defense law firm partner, legal book co-author and veteran Criminal Defense Attorney Atlanta, with 20 years of experience
Our Atlanta, Georgia criminal defense attorneys collaborate with immigration lawyers in Georgia (and outside of Georgia) to prevent our clients' possible deportation or removal from the United States. The range of criminal prosecutions that could cause expulsion from the United States is lengthy and grows each new year. Our experienced criminal lawyers near me are fully aware of how and when the disposition of a criminal case will trigger H1B visa termination.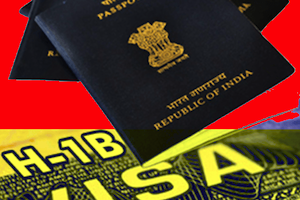 The H1B visa latest news brings more threats to new changes for Trump H1B visa duration and possible issuance of new executive orders, relating to eligibility to remain in the United States. A person who has gained a prized place to work in America and send money home to family members halfway around the world can't think about facing criminal charges in Georgia. While a public defender is free, is that who you choose to protect your right to stay in America?
After being fortunate enough to come to America, most of our clients (all of whom are lawfully present on an H1B work visa) are willing to fight any criminal charges that threaten their H1B termination. The advice of Atlanta immigration attorneys is to aggressively defend their client against the H1B termination of employment, and that is what we will do.
Does a Criminal Record Affect H1B Visa Stamping?
The answer to this question can only be "most likely" in states like Georgia that don't have traffic infractions. Other states (e.g., New York and Colorado) have most traffic laws as infractions.
An infraction won't cause deportation or removal. However, states like North Carolina, Georgia, and Alabama do not have traffic infractions. All traffic tickets are misdemeanor offenses in most states, so a traffic ticket for a person on an H1B visa needs legal guidance, to not run afoul of federal laws. Some of these misdemeanor traffic offenses include speeding, failure to maintain lane, or running a stop sign.
Before creating a misdemeanor H1B visa problem, get your FREE consultation with our Super Lawyers. All of our Georgia attorneys specialize in criminal law. Our criminal attorneys have helped non-citizens fight against an H1B revocation to assure future renewal of the client's H1B visa.
The Types of Offenses Our Criminal Justice Lawyers Handle
Our criminal defense lawyers defend all types of felony or misdemeanor crimes in Georgia. Once a felony reaches the district attorney, any case disposition must be specially handled, or that person faces permanent expulsion from the USA.
Recently, an Indian citizen was seeking advice from his immigration attorney for his H1B visa and was referred to our law office. He was charged with soliciting prostitution. The client had an appearance in municipal court and was desperate not to be deported. Thanks to a creative solution, that client is still in the US with the H1B visa.
The most common crimes we defend for those who lack US citizenship are:
Driving under the influence of alcohol or drugs (DUI)
Drug trafficking
Shoplifting
Domestic violence
Soliciting or Prostitution
Drug possession (felony or misdemeanor)
Theft charges
Hit and Run (also called "leaving the scene of an accident")
Driving with a suspended license
Attempting to elude a police officer
Reckless driving
Public masturbation
Simple possession of marijuana, less than an ounce
Fake ID charges
Simple assault, and
Simple battery.
DO NOT think that pleading "nolo contendere" versus "guilty" is a good solution. The First Offender Act is fine for United States citizens. Unfortunately, it is not an acceptable solution for those with a US H1B visa status.
Utilizing our long-term relationships with hundreds of criminal court prosecutors is the key to success for our experienced Georgia lawyers. Do not try to save a few dollars and hire a cheap lawyer who cannot afford to spend the appropriate amount of time to fight for a case disposition that protects you from being removed from America.
Get Free Legal Advice With an H1B Visa Lawyer
During your FREE lawyer consultation, our attorneys near me will calculate the full cost of defending your criminal case. This cost includes the H1B attorney fee and possible related court costs for obtaining a transcript of the plea, and a certified copy of the criminal case disposition. Also, our criminal defense attorneys will cover important legal terms like "PTI" (pre-trial intervention), diversion, or deferral just to name a few. They will also explain why the use of the First Offender Act can be harmful. If anyone is currently in the United States on a green card or visa H1B, treat all criminal charges seriously. (Since weekly news stories about "H1B Visa Trump" tweets are issued.)
Our lawyers in Georgia know the "rules" in criminal court and are prepared to fight for you. DUI defense is a subspecialty of criminal law, and all three are recognized experts. Using a medical analogy, would you want an "average surgeon" or "cheap surgeon" to be the one to undertake your fatal surgery?
Larry Kohn, a criminal law specialist representing clients for 20 years, has over 440 AVVO client reviews. This total is among the top 5 of all 37,000 GA lawyers.
He handles most of our criminal cases for non-resident workers or green card holders where a special resolution of the criminal charges is critical to protecting the H1B visa, or green card. Ex-police officer Cory Yager, Criminal Lawyer Atlanta GA and Atlanta criminal lawyer William C. Head also handle these highly important matters.
Compare our lawyer ratings and our decades of practicing aggressive criminal defense law. Take action and CALL US NOW (404) 567-5515. Be sure to ask about our law firm's attorney fee payment plans.
Trained in police courses to know the field sobriety tests BETTER than your police officer
Knowledgeable, award-winning legal professionals
FREE lawyer consultation near me, statewide in Georgia
Highly-rated criminal defense attorneys Georgia
Over 73 years of combined legal experience handling criminal matters;
Answer phone calls 24-7, to help relieve client stress and worry
Each partner has a dedicated paralegal to keep you informed of the progress of your case
Tenaciously work toward creative, effective solutions
Helpful Links About Our Award-Winning Georgia Criminal Justice Attorneys
William C (Bubba) Head named 16 straight years to Super Lawyers and criminal defense attorney Atlanta GA for 43 years
Super Lawyers Rising Star Cory Yager, who was trained at the National Computer Forensics Academy when he was a law enforcement officer
Atlanta Super Lawyer Larry Kohn, has exclusively handled criminal defense law for over two decades