Prostitution
Almost all states in the United States make prostitution illegal. Nevada is famous for its brothels, but the State of Georgia has no locations or areas that have legal prostitution. Social stigmas associated with offenses of this nature are deeply ingrained in the Bible Belt states. Other countries (Amsterdam) and some places in America have legalized sex shops.
Here is Georgia's simple but comprehensive prohibition against prostitution.
A person commits the offense of prostitution when he or she performs or offers or consents to perform a sexual act, including but not limited to sexual intercourse or sodomy, for money or other items of value. OCGA 16-6-9
Georgia law enforcement takes sex crimes in Atlanta seriously, including prostitution. Sex crimes are a major type of police enforcement for Atlanta GA prostitution. When you are speaking to a licensed Georgia attorney, you are protected by the attorney-client relationship, and everything you tell your sex crimes attorney is confidential.
Criminal cases will be made when an exchange of some type of payment occurs for a sexual act or favor from another person. A prostitution charge in Atlanta could relate to many aspects of the act itself, and if convicted, penalties under State laws may include fines, incarceration, and a criminal record as a sex offender.
Hiring an Atlanta Criminal Defense Lawyer for Atlanta Prostitution Case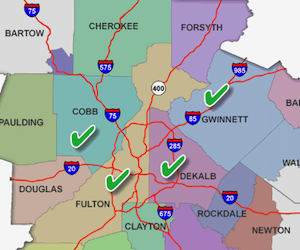 Local police department stings tend to bring in the largest number of people providing sexual services or who engage in prostitution, and these busts get a LOT of publicity. Your need to find and hire the best prostitution defense attorney near me to guide the path of your case and try to avoid a guilty verdict. You do not need a general practitioner. You need a criminal law specialist like Larry Kohn.
With so much at stake, a charge for prostitution in Atlanta GA should be handled with the guidance and knowledge of a criminal defense attorney Atlanta. This article focuses on the metro Atlanta area, and the representation of clients by Larry Kohn, a veteran criminal justice attorney with our law office.
An experienced Atlanta prostitution lawyer can bring sensitivity and confidentiality to your case to deal with it swiftly and effectively. Legal advice from a sex crimes lawyer will help diminish your stress level and start seeking solutions for any negative effects that a prostitution charge could have on your life.
What is Prostitution in Atlanta GA?
Georgia law states that the crime of prostitution occurs when a person…
Performs
Offers to perform, or
Consents to give
…another person some type of sexual act. This may be a type of sexual intercourse, vaginal or anal, a give money in exchange for an act of sodomy (oral sex).
Cash need not be exchanged since other items of value may be the "payment." Completion of the sexual act is not required for a criminal charge to be accused. The offer of sex, or the agreement to perform the sex act by the person accused of prostitution is enough.
Laws in the Peach State categorize a "sexual act" as a crime, which includes not only engaging on traditional sex, but performing masturbation and other forms of sexual contact or touching for money. Periodically, both state and federal authorities team up to bust an escort service, massage parlor or other thinly veiled type of sex shop that offers pimping or performs prohibited acts.
Defining a Georgia Prostitution Charge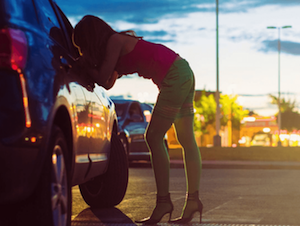 Georgia Code of Law O.C.G.A. Title 16-6-9 lays out the definitions and penalties for prostitution, which is illegal in the state. Prostitution is defined as receiving any form of payment, either monetary or in objects of value, for offering or performing a sexual act.
Prostitution charges extend to those who participate in any aspect of the business of prostitution and not only those who offer sexual favors for money or in exchange for something of value. The purpose of prostitution is to make money for engaging in sex. It is important to understand the following details about prostitution and related acts in Atlanta:
Prostitution can be punishable by law even if the sexual act has not been carried out nor payment exchanged.
Soliciting prostitution in Atlanta is when a "john" asks for another person to perform a sexual act or acts in exchange for pay.
Pimping is when a person offers to find a prostitute for another, agrees to arrange a meeting with a prostitute, provides transportation to facilitate the act of prostitution, receives remuneration related to prostitution, or oversees and directs an act of prostitution.
Pandering relates to the solicitation of prostitution either directly or for another party, or it could be bringing people together with the intent to solicit prostitution.
Operating a place of prostitution means offering use of or overseeing a property where prostitution is taking place.
Offering masturbation for hire is a form of prostitution. Whether the act is carried out or not is immaterial.
Giving a massage in a place of prostitution is considered a related crime.
Being caught participating in any part of a prostitution crime may be a harrowing and traumatic experience. The repercussions (including jail time) can have negative effects both socially and professionally because of the stigmas surrounding these crimes.
Effectively negotiating and settling a case in court comes with extensive criminal law experience. In every case, negotiations start with the goal of having charges and sentencing reduced or dismissed. To be successful, this requires the expertise of an Atlanta prostitution attorney who is well-versed in sex offense laws and who has experience handling these cases with discretion and professionalism.
Potential Penalties for a Prostitution Conviction
The Georgia Assembly details the penalties related to participation in prostitution, which can include costly fines and imprisonment. Minor sex offenses could be accused as misdemeanors, while more serious prostitution-related offenses will be tried as felonies. These sex trafficking crimes could mandate up to 30 years in state prison time, with fines reaching as much as $100,000 depending on the circumstances.
Hiring the Best Prostitution Criminal Defense Attorney Atlanta

Larry Kohn, an Atlanta criminal defense lawyer with over 20 years of experience, knows how to beat a prostitution charge. First, review Mr. Kohn's credentials below. Then, set up a FREE lawyer consultation with this Georgia Super Lawyer to review your case facts. Call today for our office 24-7 and talk to Mr. Kohn about your pending prostitution case.
A prostitution charge should only be handled by an experienced criminal defense attorney. Action to find solutions needs to be started swiftly and discreetly to minimize the effects that allegations of such a crime or a conviction on sex crimes could have on the accused.