State Court
By: DUI Attorney Cory Yager Former Cobb County Police Officer Turned Criminal Defense Attorney Marietta
Cobb County Superior Court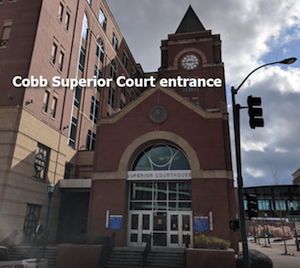 For criminal legal matters, three different Cobb County courts may be involved with your criminal case and any court date to appear. In certain courts, from the time of being ticketed or arrested until first appearance will usually be within 60 days from date of the initial contact with police.
Cobb County Superior Court is the felony trial court, which utilizes a 12-person jury. These various duties are explained below, and you will also learn that three different buildings house the various courts.
Cobb Superior Court is a "state" court (meaning that is a part of the State of GA) what lawyers call our "court of general jurisdiction," meaning that it hears all kinds of cases, civil and criminal. Plus, it has equity powers, meaning that it can enjoin (stop) people or companies from doing things and issue orders that controls overseeing the care of incapacitated adults.
The Clerk of Superior Court is on the ground level of the new Cobb County Justice Center, 70 Haynes Street, Marietta, Georgia 30090. The Cobb Superior Court clerk's automated number is 770-528-1000. Please call after 8 AM to speak to an assistant clerk.
Cobb County State Court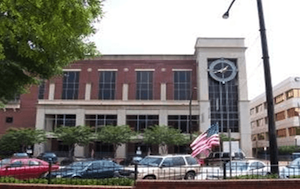 Cobb State Court is the misdemeanor trial court with the state of Georgia's court system and utilizes a 6-person jury. It is located on the Marietta Square at 12 East Park Square, diagonally across from the historic Strand Theater. Get to the Marietta Square, and look for the unique government building shown below.
The phone number for the Cobb County State Court Clerk is (770) 528-1200. Have your traffic citation in front of you if you are asking about your case number or the next court appearance date.
A special creation of the Georgia Legislature, in the State of Georgia our state courts possess misdemeanor criminal jurisdiction as well as having unlimited "dollar amount" civil case authority in tort cases (personal injury) for injuries, wrongful death or property damage claims. So, the State Court of Cobb judges handle DUI, hit and run, speeding, red light violations, simple battery, bad checks, illegally passing a school bus and a host of other misdemeanor charges. In addition, county ordinance violations are litigated here.
Cobb County Magistrate Court
The Cobb County Magistrate Court issues arrest warrants and search warrants and can set certain bonds. These Magistrate Court judges also periodically "stand in" for Superior Court judges. Their Waddell Street location in the old superior court building (Now called D1) is now connected by a closed causeway that bridges Haynes Street.
Other Cobb County Courts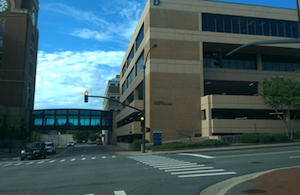 To locate each of these judges or judges handling Cobb County Probate Court of Cobb County Juvenile Court matters, you could be in one of three different buildings. So, the clerk of Superior Court is at Haynes Street, but both the Probate Court clerk and Magistrate Court clerk are at 32 Waddell Street, Building D1, which is in the block between the State Court and Superior Court buildings.
There is not just one place to find Cobb County court records or just one Cobb County Courthouse, Marietta GA. The leaders of Cobb County government committed to keeping the county courts in downtown Marietta, rather than close the traditional Georgia system of being in the historic place that court business takes place, which was Marietta.
Cobb County GA State Court is a familiar place to our three top-rated Cobb County lawyers , who spend many hours successfully defending DUI defendants in a Cobb County court during a very stressful time.
Some people confuse this court with the City of Marietta Municipal Court at 240 Lemon Street, Marietta, GA. This municipal (city) court is run by that city, and only processes misdemeanor cases that originate within their city limits. Any felony arrests within the Marietta city limits go straight to Cobb Superior Ct.
Our award-winning criminal defense attorneys appear in Cobb courtrooms almost every day. Our law firms criminal lawyers are known to be prepared and to present solid defenses that win cases for our trusting clients.
Most of the criminal cases in the State Court of Cobb County GA are for traffic violations, including serious motor vehicle misdemeanor offenses like driving under the influence (DUI-DWI). Hire criminal lawyers near me who know how to beat a criminal charge in Cobb County.
Call our three Super Lawyers, 24 hours a day, at (404) 567-5515 for a FREE lawyer consultation and FREE legal advice on the initial call.
Our MARIETTA – COBB COUNTY OFFICE LOCATION:
109 Anderson Street
Suite 103
Marietta, GA 30060
By: Larry Kohn, Cory Yager and Bubba Head, Our Three Award-Winning Law Firm Criminal Attorneys Near Me
State Court of Cobb County now has twelve (12) state court judges. Each of these judges has two assistant solicitors assigned to their courtroom. This arrangement permits all 12 courtrooms to operate simultaneously and independently. After some remodeling about 6 years ago, a dozen misdemeanor trial courts now offer jury trials or non-jury (bench) trials.
Any misdemeanor or traffic violation cases made within the city limits of municipalities in Cobb County that are bound over for jury trial come to the State Court. Cobb County Superior Court would be where any felonies are adjudicated. This Cobb County Courthouse, Marietta GA is Cobb's busiest.
These municipalities include Smyrna, Austell, Powder Springs, Kennesaw, Acworth, and Marietta. Upon a jury trial request, all Cobb County courts that are non-jury tribunals must bind over their misdemeanor cases. This includes bad checks, following too close, DUI, reckless driving, speeding, failure to maintain lane, and any other crimes that fall under the state of Georgia code.
The Cobb County, Georgia State Court is split into two divisions, Division 1 and Division 2. Previously, the Division 2 judges were known as the Cobb County Traffic Court and did not conduct jury trials. Today, however, all 12 court locations can accommodate a jury trial, or conduct a non-jury trial (bench trial) for criminal (misdemeanor) and traffic cases that are brought before the court.
Cobb State Court Arraignment
About 45 to 60 days from the date of arrest or ticketing, your court case will be scheduled. Even if you don't have an attorney at your first court appearance, you can attend this first court appearance.
An "arraignment" is when you hear the charges read to you in open court. This is when you can seek a public defender, too.
You will see Cobb County attorneys buzzing about the courtroom, going from client to prosecutor to judge. By being hired early, these criminal justice attorneys are already building a strong defense and trying to negotiate a settlement. Every case is different, and each requires a tailored defense strategy.
A Cobb County State Court judge has jurisdiction over misdemeanor crimes like a DUI arrest, reckless driving in GA, hit and run, trying to elude police, and marijuana possession charges. Any felonies are under the exclusive jurisdiction of the Superior Court of Cobb County and cannot be heard by the State Court.
Things to Bring to State Court of Cobb County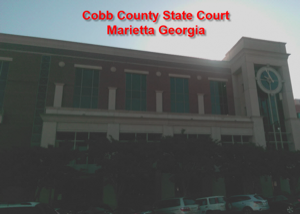 Your first court date in Cobb County State Court will be printed on your traffic citation paperwork. This paperwork was handed to you as you left the Cobb County Adult Detention Center.
The Cobb County State Court location is 12 E. Park Square, Marietta, GA 30090. This Cobb County Courthouse, Marietta Georgia is diagonally across from Marietta's Strand Theater. Multiple parking decks are located within easy walking distance, but most are credit or debit card only.
Our Criminal Attorneys and Traffic Ticket Lawyers in Marietta GA
Our criminal lawyers near me for DUI, hit and run, probation violation and other serious traffic offenses will give you a FREE face-to-face meeting before talking about legal fees. Plus, our DUI law group offers access 24 hours a day. Call us NOW, 24-7: (404) 567-5515.
Ask about our attorney fees payment plans. When you see our law partners, you also receive a FREE PDF copy of Mr. Head's Drunk Driving Defense Book for Clients which is 430 pages in length.
Important Related Links:
The Cobb County Probate Court is located in the old superior court building at 32 Waddell Street, where the Juvenile Court and Cobb County Magistrate Court are housed. This Waddell Street building is conveniently located just east of State Court and just west of Cobb Superior Court.
The Supreme Court of Georgia issued new Rule 22 regulating cell phones in courtrooms, on July 19, 2018
Link to the Clerk of Court for the State Court of Cobb County for State Court of Cobb County court records. Angie T. Davis is the elected Clerk of Court.
Solicitor-General's Office Barry Morgan is the elected State Court of Cobb County Solicitor.
Cobb Cunty Case Docket – Daily Update. Have your case number from your traffic citation or accusation when you call.
For the Clerk of Superior Court, please call: 770-528-1000.
Our Marietta, Georgia Office Location in Cobb County
Our MARIETTA, COBB COUNTY OFFICE LOCATION:
109 Anderson Street
Suite 103
Marietta, GA 30060