Criminal Attorneys Forsyth County Georgia: DUI Lawyer GA

By: Cory Yager, the Forsyth County Traffic Court, and DUI Attorney in Georgia who attended Law School while actively working as a law enforcement officer.
Forsyth County arrests for DUI in GA. When a person is arrested for driving under the influence (DUI), the process (especially for first offenders) is frightening. In Forsyth County GA, this arrest is often the first-time people experience jail. They also have their fingerprints taken at the Forsyth County jail, which is related to a Forsyth County court Georgia case.
DUI arrests Forsyth County GA. Being arrested can lead to roadside tests, license confiscation, and court appearances, which can be overwhelming. Those arrested for violating Georgia DUI laws by city cops (e.g., Cumming Police Department) will be appearing in the Municipal Court of whatever city their arrest took place.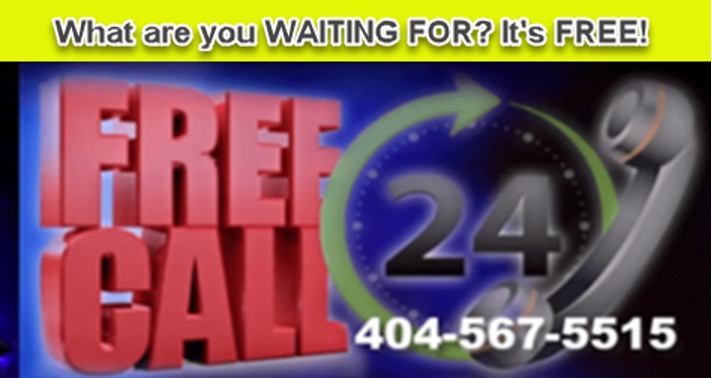 Forsyth County police arrests. All other arrests for driving under the influence (e.g., arrests by officers from the county sheriff s office) are docketed in the Forsyth County State Court, unless the case is felony DUI. All felony cases are transferred to Superior Court for the County of Forsyth.
Our team of Forsyth County DUI lawyers are here to help. The four skilled criminal defense lawyers will defend those facing any Forsyth County crime charges and use our 93 collective years of service to work with our client every step of the way to protect his or her freedoms. No matter which Forsyth County GA court has your pending case, our criminal law and DUI defense attorneys cover criminal cases in that Court.

WORD OF CAUTION: Your driving privileges may be at risk, since almost every DUI arrest triggers your plastic license being confiscated. The implied consent law is very punitive for anyone who refused post-arrest testing.
So, call today for a FREE consultation on protecting your ability to keep driving. Dial 404-567-5515, 24 hours a day. You have ONLY 30 DAYS after arrest to either file an appeal to GA DDS or opt for the ignition interlock device (IID) under OCGA 40-5-64.1. Let our 93 plus years of criminal defense expertise guide your path through your criminal case.
Consequences of a DUI Conviction in Forsyth State Court
The State of Georgia takes the prospect of DUI extremely seriously and the punishments for a conviction are accordingly harsh. A conviction for even a first time DUI carries multiple penalties, like community service, attending DUI school, and other mandatory compliance issues.
Below, the helpful DUI penalties chart created by DUI defense lawyer and Partner Georgia is very strict when it comes to DUI and the penalties for being found guilty are severe., gives you an overview of first offence DUI punishments and for repeat offenders. These include: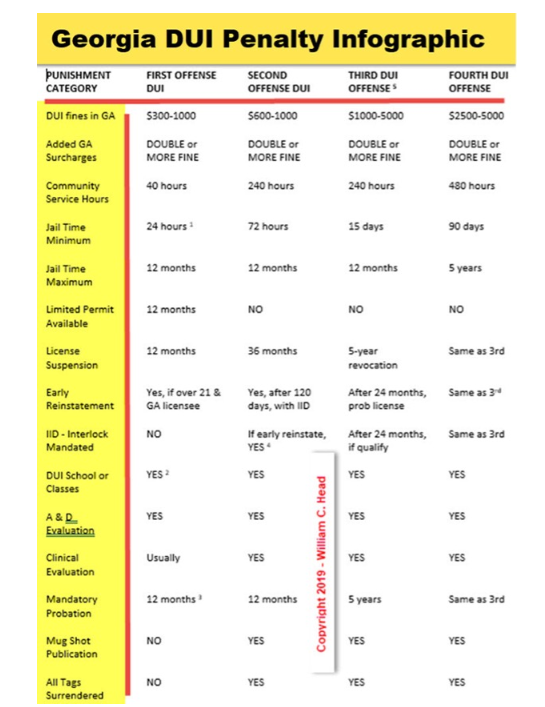 Be aware that the Solicitor in State Court of Forsyth County does not stick to the minimum penalties. Often, the judges in Forsyth County will hand down a DUI sentence that carries a much higher jail penalty than the minimum Forsyth County GA jail term set by DUI laws in GA.
Repeat D.U.I. Offenders will be Directed to Attend an Orientation for Forsyth County GA DUI Court
Whether your goal is to seek a fair and equitable plea deal or to fight the charges in a full trial, they will protect your interests with vigor and diligence. For repeat offenders, expect to be scheduled to attend a Forsyth County accountability court "orientation."
The Forsyth County DUI Court is part of the State Court in Forsyth County. Superior Court oversees the Drug Court, Forsyth County GA.
With possible consequences ranging from a lengthy jail sentence and hefty fines to license suspension and required alcohol education programs, the stakes are high. Do not take any unnecessary chances, contact a Forsyth County DUI lawyer today. The two Forsyth County courts can freely transfer cases between the two Courts.
If you have been charged with a DUI case, Forsyth County DUI attorneys are available to help. An award-winning criminal defense attorney can be at your side every step of the way.
After all, our partners are co-authors of Georgia's leading book on DUI defense, The Georgia DUI Trial Practice Manual. Call Mr. Head, Mr. Yager, or our other two lawyers, Larry Kohn.