Best Criminal Defense Attorney in Athens GA on Athens Arrest
Unique features about most Athens Georgia arrests. Many people facing arrest in Athens, GA are young adults. The median age of all Athenians was 28.1 years old, in the 2020 census. The median age for all Georgians was 36.9 years of age from that same census report.
Since the University of Georgia is the largest employer and "entity" in Athens-Clarke County, these lower median age numbers are understandable, due to the influx of young people every year. Younger people tend to be more socially active and go out at night more often than people over 40 years of age.
Athens Arrest Records show that Athens GA Crime often involves UGA Students. A 2019 study conducted by the federal government was used by UGA police to gauge crime on campus.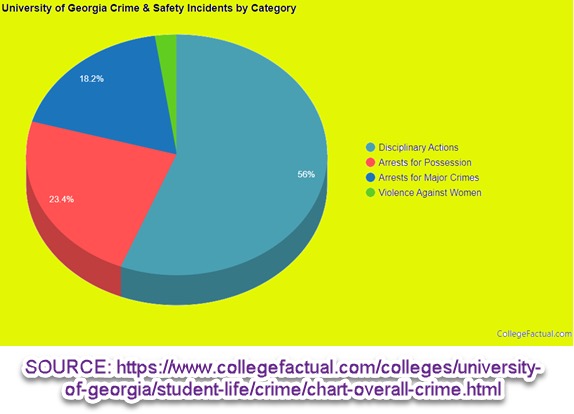 While the majority of bad conduct issues on UGA property were handled by disciplinary actions, the same does not occur for crimes occurring off-campus. This is where our criminal law firm's legal services are needed, to take all possible steps and implement every legal strategy and maneuver to beat or reduce the pending criminal charges.
As criminal law attorneys, our legal team strongly believes that all our clients should receive comprehensive and aggressive legal defense at all stages of their cases. Our legal team members provide initial free consultations for three reasons:
(1) Some types of crimes need immediate attention to protect against related harmful, time-sensitive consequences (i.e., DUI criminal charges almost always have a related civil administrative license suspension).
(2) Some clients are still in jail after arrest and need a bond hearing on a temporary protective order or having a Superior Court judge set bond amount on a serious felony like homicide by vehicle, or some type of sexual assault crime.
(3) By making the phone call our one of our attorneys FREE, even those who need a public defender receive this timely and helpful legal information (to protect their ability to drive).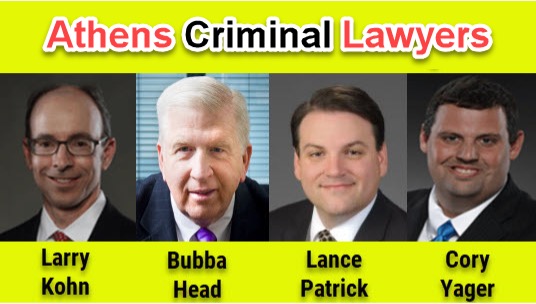 By talking soon after the arrest, our criminal defense lawyers can guide the caller to the right place for an appointed attorney, if our firm's payment plan options are more costly than the person can afford. Of the UGA students arrested, more than 9 of every 10 of them are facing an Athens Clarke County misdemeanor offense, or possibly a substantive or technical violation of probation.
Ignorance of the Law often works Against our Clients
Police in Athens-Clarke County receive training on evidence-gathering techniques and methods that correctly assume that the detained citizen won't know the law. Our law professionals know this, because the Athens Clarke County Police Department arrests are fully captured on bodycam videos, and this has been the rule for the ACC police for over a decade. (Read further below about an eighth DUI offender whose Athens GA case was dropped to reckless driving with no jail time, due to favorable body cam information).
For example, if an officer smells alcohol or the odor of marijuana from a driver pulled over at a DUI checkpoint or traffic stop, he or she will ask questions and will usually request that that driver step out and perform a series of field sobriety tests.
Very few know that ONLY their name and address are required. Virtually no citizens know that roadside field agility and eye tests are 100% optional and voluntary. Plus, few know that these evaluations are "designed to fail," meaning that many false positives lead to a person's arrest.
If that detained person asked --- before doing or saying anything --- if she or he can contact an attorney, that request will be denied by police. So, you will be left to your own devices and "knowledge" of the criminal laws in Georgia. This helpful video by our senior partner Bubba Head tells you what you must do and what is optional at a roadside police pullover.
Correspondingly, Athens Georgia arrest records (on average) are for college students who are often living on their own for the first time. Athens arrest reports will reveal that much of Athens crime news reports center around criminal charges pertaining to alcohol or drugs.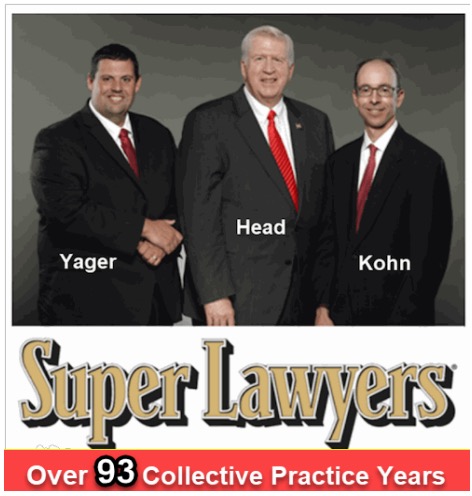 A full 40% of arrests occur in or being associated with a motor vehicle (e.g., fake ID --- usually a fake driver's license, found in an Athens arrest search). These crimes often include driving under the influence (DUI), vehicular homicide GA, serious injury by vehicle, reckless driving, hit and run, speeding, following too closely, racing).
Property crimes (e.g., theft, shoplifting, fraud, gun crimes) and violent crimes (e.g., rape, murder, armed robbery, child molestation) seldom are associated with students at the University of Georgia.
Athens Police Department arrests. Athens GA arrest records show that the Athens-Clarke County Police Department accounts for well over 95% of all Athens city arrests (in the downtown area) and traffic citation issuance. Due to the 100+ bars and restaurants located within 2 miles of the center of town, that is not a surprising number.
The ACC Police Department is responsible for the majority of arrests in the county. They are followed by the Georgia State Patrol and University of Georgia Police Department. Additionally, the ACC police Department or a county sheriff's officer will issue misdemeanor traffic tickets in Athens Clarke County.
Free Lawyer Consultations with Athens GA Criminal Lawyers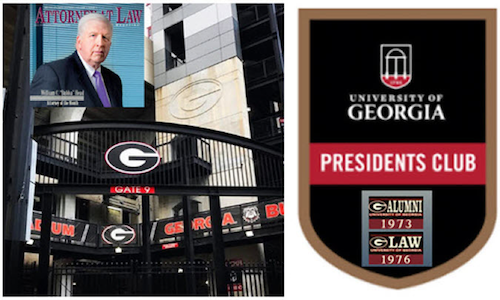 William "Bubba" Head is a proud Double Dawg from UGA. His extended family members all live in Clarke County. His older daughter also graduated from UGA and was an R.A. at Russell Hall for two of her undergraduate years, before going to Medical School.
The criminal lawyers at Kohn & Yager LLC have more than 93 years of legal expertise in criminal case defense and specialize in representing individuals who require a proven and capable criminal attorney in Athens, GA. Even an 8th DUI offense can be won, with thorough investigation and never assuming that the case is "unwinnable."
Below is another victory for a multiple offender that occurred 35 years ago and made national news. When the mindset of your legal counsel is to win, creative solutions are highly valuable from your legal warrior.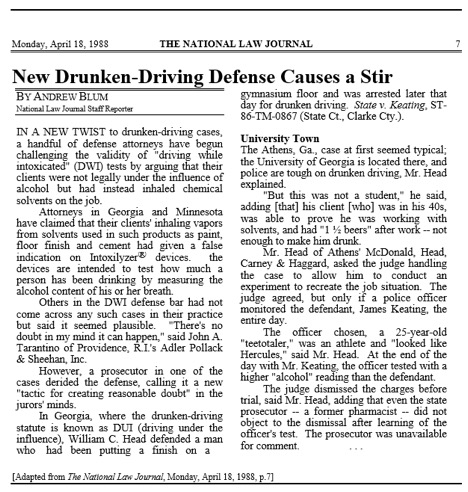 Clients who enlist the services of a criminal attorney in Athens, GA from our legal team can rely on this extensive experience in offering tailored legal guidance and defense strategies to combat criminal accusations, felony, or misdemeanor.
Call our 24 hour number, 7 days a week, including holidays and weekends. Call our office at no cost by dialing 1-800-462-8222. Our 4 criminal lawyers near me will provide you with a complimentary evaluation of your pending Athens felony or misdemeanor case. Ask about legal fee payment plans if monthly payments are needed.