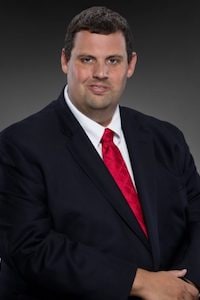 Cory Yager
Download VCard
Phone: (404) 567-5515

5600 Roswell Rd Building H Ste 200
Sandy Springs, Georgia 30342
Cory Yager is one of the top DUI defense attorneys in the Atlanta area. Rated as a Super Lawyers Rising Star the last six years in a row, he has built a reputation as being one of Georgia's toughest criminal lawyers. In 2016, this Atlanta DUI lawyer was invited to co-author a chapter on Witness Preparation and Examination for DUI Proceedings, in a legal publication of a Thomson-Reuters Publishing subsidiary, Aspatore Law Books.
Attorney Yager received his B.A. in Political Science from the State University of New York. After moving to Georgia to begin police training, he later attended law school and received his Juris Doctorate from the John Marshall Law School, where he graduated second in his law school class.
Being arrested and charged with driving under the influence is one of the most stressful events that can happen in your life. Being arrested is an experience no one wants to endure, but being arrested for a serious crime in Georgia (like DUI, vehicular homicide or serious injury by vehicle) creates obstacles that can sideline a career or disrupt your family. For many crimes, whether felony or misdemeanor, even first-time offenders may spend time inside a jail cell.
As you will learn, INFORMATION from a criminal attorney who has years of experience in dealing with the legal system helps calm raw nerves. By knowing what to DO, how to protect your Georgia driver's license, and what steps need to be taken to obtain a great outcome helps alleviate stress from a criminal case arrest. Consult with an experienced DUI defense attorney.
Criminal law is very complicated, and your defense attorney should be well-versed in Georgia's ever-changing drinking and driving laws, and license suspension issues. Every partner at Mr. Yager's law firm is an expert on Georgia DUI laws and other criminal law statutes. To see a few case summaries from Mr. Yager's career, click on Sample Cases above. These tough cases likely are more challenging than YOURS, so that you know you are meeting with a top criminal defense lawyer.
What makes Attorney Yager stand out from other GA criminal defense attorneys? Before attending law school, he worked as a police officer for the Cobb County Police Department for nearly 5 years. Next, while Mr. Yager was attending law school, he was employed as a police officer for the City of Roswell Police Department. He was a Field Training Officer, which means he was entrusted to train new police recruits. At Roswell PD, Cory Yager worked in the Roswell Municipal Court as the Bailiff, during his last year of law school. Thanks to his nine years in law enforcement, he understands how law enforcement officers think and uses that "inside information" to his clients' benefit.
He has been NHTSA-certified to instruct law enforcement agents on how to administer standardized field sobriety tests.
Attorney Yager came into contact with Bubba Head and Larry Kohn while still a police officer. By watching these Atlanta DUI attorneys in action, he was able to see firsthand why the DUI law firm had such a highly-regarded reputation for ensuring that their client's rights are upheld.
After passing the Georgia Bar, Attorney Yager turned down many job offers so that he could accept a position at the law office of William C. Head. He joined Mr. Head and his partners within a week after passing the Georgia Bar. Since starting at the firm, he moved from Associate, to Senior Associate to Partner over the course of seven years. Cory Yager has successfully represented over 2000 clients in both misdemeanor and felony cases, with the largest category of his work as a criminal defense attorney being spent fighting driving under the influence cases.
If you are ready to fight your DUI charges, Attorney Yager is ready to assist you. To contact the law firm of Kohn & Yager for a free initial case evaluation, please call us toll-free at (404) 567-5515 today.