Courts
By: Law Partners Larry Kohn and Cory Yager, Criminal Defense Attorneys in Atlanta GA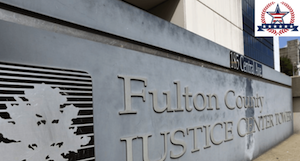 As part of the Atlanta Judicial Circuit, Fulton County GA is home to Georgia's largest population county. In addition to the downtown Atlanta structures for Superior Court of Fulton County, State Court of Fulton County, and one of the Fulton County magistrate court locations, several other buildings may be your court location. Plus, fifteen municipalities operate out of their own courts, which are funded by their respective cities.
Fulton County's economic impact is more than 4 times any other county in the Peach State. Mercedes-Benz Stadium, the Cyclorama, the National College Football Hall of Fame, the Georgia Aquarium, the Georgia Legislature, Coca-Cola Headquarters and many more iconic landmarks are within metropolitan Atlanta GA.
The County is constantly evolving, and it is easy to get lost trying to understand the County's legal proceedings in various Fulton County courts. Therefore, if you are facing misdemeanor or felony charges in any of Fulton County's municipalities or unincorporated areas, it is important to consult with an experienced criminal lawyer near me to help guide you through the criminal law process.
In Which Fulton County Courthouse Will my Criminal Case be Handled?
Because more than 20 different Fulton County Courthouse locations may be where your case started, this guide will help you know more about your court in Fulton County GA. Fulton County Probate Court, Fulton County Juvenile Court are in the downtown area, but a couple of Fulton County Magistrate Buildings are located in north Fulton County and south Fulton County that handle certain functions for these courts.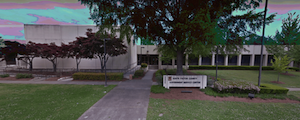 You must ensure you know where your case will be held, and which Fulton County court records have details on your case. This page is designed to tell you what to expect with various court procedures. The starting point is your traffic citation or your jail release and bonding papers.
Since most misdemeanor crimes are created by a Uniform Traffic citation, look there for your Fulton court date and time and date of your appearance. The image in the Georgia Uniform citation form is blocked off in RED below. Plus, the language beneath that red box tells you the consequences of failing to appear (FTA) at your courthouse in Fulton County on the scheduled date.
Some tickets will sate "TBD" or some other abbreviated telling you that your court date has not yet been set, and that the notice will come in the mail. CAUTION: Make sure that the address on this ticket matches where you get your mail, so that you don't inadvertently miss the court appearance.
Misdemeanor or Felony Fulton County Criminal Cases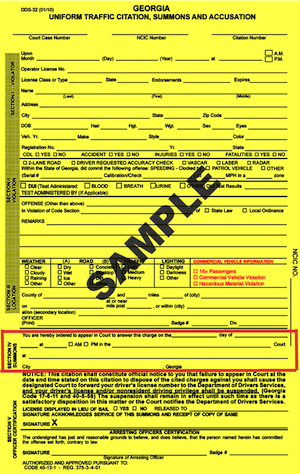 Misdemeanor cases in Fulton County Georgia can be handled by any of the municipal courts or by the Fulton County State Courts within the county. Through the Georgia Legislature more than a dozen new cities have been spawned in the last 20 years, and many of these (e.g., Sandy Springs, Milton, Johns Creek, City of South Fulton) have been created within Fulton County GA. In fact, most of the land withing Georgia's most populous county are now within the various cities' corporate limits.
The State Court of Fulton County handles all misdemeanor-level cases in the unincorporated parts of the County, which are mostly south of I-20. Most municipal court cases, including Atlanta Traffic Court, are resolved within 6 months, and the median time in this court is about 75 days. Either a non-jury trial or a plea of some type is utilized to wrap up these cases.
In any municipal court, simply demanding a jury trial causes bind over to a State Court, which is Fulton State Court in Fulton County. Cases here move more slowly, but better than they did four years ago. Our law office approach is to see what possible "deal" is available in the local municipal court, before transferring to State Court of Fulton County GA.
Felony Cases: Jury Trial or Bench Trial in Superior Court of Fulton County Georgia
In Fulton County, any felony case that is brought is initially worked on through the Fulton County Court System, and the Superior Court of Georgia is a general jurisdiction trial court that handles all felony cases. No other court can handle felony cases except superior courts. So, you can ask for a non-jury trial or a jury trial in Fulton County Superior Court, on all felony charges, and felonies have a jury of 12.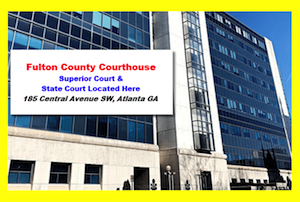 At the beginning of a felony case in Fulton County GA, the suspect will be taken to the Fulton County Jail, where the arresting officer or detective files a complaint with the District Attorney's Complaint Room. After the complaint is filed, the person charged with the offense will be arrested, and is usually brought in front of the magistrate judge by 11:00 the morning after the date of the arrest. Following the complaint, this hearing will take place at the Fulton County Rice Street Jail, and at this time depending on the charges, a bond may be set.
Once the bond is set, the person facing most types of felony criminal charges is given a notice of a court date within the next two weeks for an all-purpose hearing. The Fulton County Superior Court System moves through non-complex or non-violent felony cases extremely quickly. This is a critically important court date to attend and try to negotiate your best deal, so DO NOT wait to hire an experienced criminal defense attorney near me.
Misdemeanor Jury Trials in a Fulton State Courtroom
Unless a jury trial in a misdemeanor motor vehicle crime case (traffic ticket) or other misdemeanor crime (prostitution, simple assault domestic violence first offense, public indecency, simple possession of marijuana) is requested, your case will be heard as a non-jury trial in the court where it originates. State Court of Fulton County GA is the sole misdemeanor jury trial court in Fulton Co, Georgia, and empanels a jury of 6 for criminal cases, and a jury of 12 for civil trials of tort claims (a civil suit for money damages).
Municipal Courts
A person charged with a crime in any of the Fulton County Municipal Courts is subject to state penalties, because all municipal cases that are charged as State law offenses have the opportunity to be bound over to the State Court of Fulton County.
For example, when a person is charged with speeding in the Sandy Springs Municipal Court, if they choose to do so, they can move their case out of Sandy Springs to the State Court of Fulton County by demanding a jury trial. All the following municipal courts in Fulton County operate this way:
Municipal Court of Alpharetta
Municipal Court of Chattahoochee Hills
Municipal Court of College Park
City of East Point Municipal Court
Municipal Court of Fairburn
Municipal Court of Hapeville
Milton Municipal Court Milton
Municipal Court of Mountain Park
Palmetto Municipal Court
Municipal Court of Sandy Springs GA
Union City Municipal Court
Mountain Park Municipal Court
City of South Fulton Municipal Court
Why Hiring Award-Winning Criminal Lawyers Near Me is a Smart Move
A criminal defense lawyer near me from one of our four metro Atlanta office locations can navigate the waters for you. In addition, our law firm partner can meet with the detectives or police investigators and sometimes keep cases at the municipal court level (as a misdemeanor violation) rather than send it to the Fulton Superior Court to be processed for felony charges.
An experienced Fulton County criminal lawyer will also know all the prosecutors, judges, and procedures because Fulton County works differently than any other county in Georgia. There are oftentimes more court dates that move at a more rapid pace in Fulton, while in some cases, court dates may take up to two years to go through the Fulton County court system
Partners Larry Kohn and ex-cop Cory Yager appear in Fulton County weekly, and (often) can find excellent solutions to some of the toughest cases. Serious traffic offenses like DUI in Georgia , Hit and Run Georgia , and reckless driving GA can be the predicate traffic crime for a first-degree felony vehicular homicide GA case, at Fulton Superior Court.
For a FREE lawyer consultation, call our 24-hour help line at (404) 567-5515. Because we want you to know the difference between our criminal attorneys and others who immediately demand a credit card from you, the FREE consultation can be in person or via Facetime, Zoom or similar video conferencing.
Other related topics on Other Pages Within This Website: