What is DUI? Atlanta DUI Attorney Explains Georgia DUI Laws

By: William C. Head, Criminal Defense Attorney Atlanta and Nationally, Well-Known DUI Attorney Atlanta GA
For the last 100 years, about 60,000,000 impaired driving arrests were made in America, yet clients ask our DUI-DWI lawyers near me, "what is DUI?" A DUI definition can vary slightly, from state to state and country to country, but a DUI definition recognized by most Americans.
People in other nations do not utilize the same under the influence meaning or acronyms for citizens arrested for this traffic crime in those nations. In fact, England calls the crime "drink driving," even though more crimes other than by operating under the influence of alcohol are criminalized.
So, what's a DUI? It is the acronym (abbreviation) identifying the motor vehicle crime for which local law (by any other acronym) seeks to arrest, prosecute, and punish that person for putting the public at risk. A secondary goal of an arresting officer making DUI charges is to suspend or revoke his or her driving privileges.
DUI Meaning: Drunk Driving and Drugged Driving in America
In the English version of "DUI" from Merriam-Webster, the dictionary tries to define DUI in America, but falls short. However, our three DUI attorneys bring nearly 80 collective years of experience to the table can give a ballpark definition of the traffic crime in Georgia. Please view the credentials our attorneys for DUI in Georgia.
Because all states' DUI laws vary in wording and scope, a garden-variety dictionary only scratches the surface. Original laws (NY and NM were the first states) dating back to 1910 were only targeting a driver's blood alcohol content. Plus, various states have created shortcut words to describe their drunken driving laws, like "deuce" in California (which relates to the numeric code section last numeral, "2".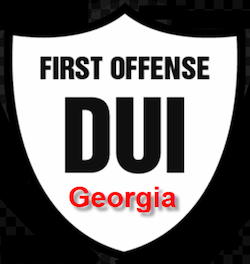 The crime of drinking and driving is so well-known that an iconic TV show, "D.U.I." aired in 2011 and 2012. Plus, other police televisions series like "COPS," "Real Stories of the Highway Patrol," and others periodically highlighted drinking drivers being arrested.
Today's legislation comprehensively criminalizes being all impairing substances of any type of substance ingested. All states impose fines, even for a first offense DUI. All impose probation, and loss of driving privileges. A substantial majority have mandatory jail time. Community service hours are also universally mandated.
Some states more harshly suspend a drivers' license for driving while impaired by drugs than DUI driving influence alcohol cases. Georgia is one of those states.
The author of this article has expanded the "book" definition of DUI or DWI to this:
The most precise "DUI meaning" covers the criminal act of a person operating, driving, or being "in actual physical control" of a vehicle while that person is controlling the vehicle, and is affected by either alcohol, drugs, or some other substance. While not universal, most states define DUI for MOTOR vehicles, but others broadly proscribe a person being on ANY vehicle, including a bicycle, wheelchair, horse, or scooter.
Unique in the WORLD for not having a national impaired driving standard, each state's legislative body has passed and revised its drinking and driving and drugged driving laws dozens of times. Today, no singular DUI acronym or DUI meaning exists, with more than a dozen acronyms being utilized in America.
While every states' officers use field sobriety tests at the roadside, almost no states have law requiring a suspected drunk driver to participate. In fact, these physical tests have been criticized in appellate decisions as lacking a scientific foundation or basis.
What Does DUI Stand for?
The "D" stands for driving, but many states use "operating," and most states have written their laws to eliminate the need to see a person driving or operating a vehicle. The "U" stands for the word "under." Hence, you can now answer the question, "what's an OWI?"
The "I" most commonly represents "influence," but as will be stated below, virtually every state has enacted secondary statutes or subsections that criminalize being above the legal limit, commonly called DUI per se statutes. In addition, the aggravated DUI or extreme DUI statutes in West Virginia and Arizona, respectively, are big time trouble, if convicted in those two states. All but a dozen states use either DUI vs DWI for their abbreviation of the crime "drunk driving." Very little distinction between a DUI and DWI charge exist. Almost no distinction exists from the mere acronym uses, and so no difference between DUI and DWI can be expected.
Yet, the "DWI" states individually define the crime. In some of those states, the laws call DWI stands for driving intoxicated. on others, the statutory language for DWI means driving while intoxicated. The same phrase applies to the crime pertaining to blood alcohol concentration and being impaired or under the influence of drugs.
Two Types of DUI-Alcohol Convictions are Possible in GA
DUI Per Se meaning – Being over the alcohol legal limit for your age and vehicle type, regardless of symptoms or signs of impairment. Underage drivers in Georgia are held to a 0.02 grams percent BAC limit, the driver of a commercial motor vehicle cannot exceed .04 grams percent, and all others have a .08 grams percent blood alcohol content limit.
Other than Utah, which lowered its "adult" permissible blood alcohol concentration to 0.05 grams percent in 2018, all other states still use 0.08 grams percent as the BAC level for drivers age 21 and over, who are not operating a CMV (commercial truck).
DUI Less Safe meaning in Georgia – Officers in the Peach State can arrest any driver (regardless of being able to obtain a forensic test after arrest), if he or she can testify to or otherwise show (e.g., via body camera) observations of diminished motor skills and cognitive function.
Do not Hire an Amateur to try to win a Case That a DUI Expert Needs to Handle
Five things should be researched and known about our philosophy and attitude toward defending DUI cases before calling our law firm's number:
The DUI case evaluation and FREE lawyer consultation near me applies to all Georgia operating while intoxicated cases;
Our law firm near me is interested in FIGHTING the case, not pleading guilty, and have our client go to jail for even a day or suffer DUI penalties. This philosophy is equally applicable to ALL offenses, such as a second offense DUI, DUI 3rd offense or a first lifetime DWI-DUI.
The FREE PDF copy of Mr. Head's 430-page DUI book will guide, support and educate you on DUI terminology and court-related terms, so that you learn this inside information about defending a DUI-DWI;
If your case is in other parts of the state of GA or in another state, our lawyers for DUI defense can still assist you by conferring with another good, experienced litigation attorney on your local court location. Once our lawyers for DUI share that local lawyer's information, that Georgia DUI attorney will strive to avoid a DUI conviction and sentence. The attorneys we refer to also follow our aggressive approach to defending your DUI driving case; and
Rest assured that NO OTHER Georgia law office in GA has better credentials than our three-partner, award-winning Atlanta DUI lawyers. Each of our attorneys in Atlanta, Larry Kohn, ex-cop Cory Yager (the dynamic duo, trained by Bubba Head since law school) are all well-known for successful DUI defense in GA.
Mr. Head (after graduating from UGA with honors as a history major) began writing books on challenging driving impaired cases in 1991. The initial book, 101 Ways to Avoid a Drunk Driving Conviction, made Atlanta DUI attorney William Head and his late co-author from North Charleston, South Carolina, Reese Joye, famous among DUI defense at: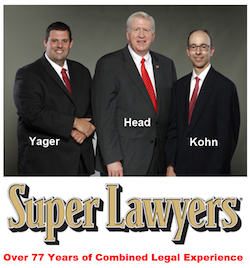 Call today for 24 hour service: (404) 567-5515, and tell our criminal attorneys near me HOW and WHEN we can meet or talk in detail via Facetime, Zoom or other phone conferencing method. You will be glad you let us critique your case facts.
Key Georgia DUI Laws that May Be of Interest:
Disclaimer and Privacy Policy
The information you obtain at this website, related videos, image resources, Twitter, Facebook, or YouTube, or from blog postings is not, nor is it intended to be or provide, legal advice. This legal analysis by our law group is meant to help you get a basic understanding of criminal laws and your constitutional and statutory rights relating the crimes charged against you. to the topics covered in this subset of criminal defense, and let you search for answers.
New laws are enacted periodically, and state agencies (like GA DDS) make rules changes for those with one offense or multiple DUIs that can affect your right to reinstate a license with little or no notice to the public. You are well advised to consult an attorney for advice regarding your individual situation, because no amount of online information can synthesize and process what an experienced legal professional can do.
Our lawyers in Atlanta invite you to peruse our site for information, and then contact us. Our Georgia lawyers encourage you to browse other competitors' credentials, accolades, and awards, to compare overall attorney ratings. Our law office welcomes your email communication, chat responses, phone calls, letters, and electronic mail.
Our law group maintains a strict privacy policy, and (if you do not hire us) we shred your paperwork. Contacting us (through any communication method) does not create an attorney-client relationship.
Please do not send any confidential information to us until such time as an attorney-client relationship has been established and you sign our fee agreement.
Updated for 2019 and 2020. Copyright, William C. Head, Atlanta GA. All rights reserved.