Criminal Defense Attorney Marietta GA: Beat Criminal Charges
By: Award-Winning Criminal Defense Attorney in Cobb County GA Lawrence A. (Larry) Kohn, and co-author of two Legal Books
Facing prosecution and needing top-rated criminal lawyers? If your case is pending in a Cobb County criminal court, such as Smyrna Municipal Court, Cobb County State Court, Cobb Juvenile Court, or Superior Court of Cobb County, you have found the right criminal lawyer website. See image of Marietta Municipal Court entrance below.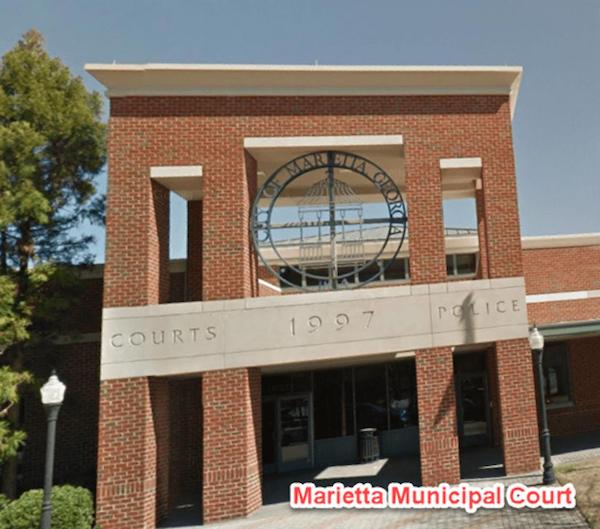 After graduating from Emory University, criminal lawyer Marietta GA Larry Kohn enrolled in Georgia State University School of Law, where he later graduated magna cum laude from the law school. He accomplished this despite working a full-time job with Georgia criminal law legend William C. "Bubba" Head. This extensive two-year internship prepared Mr. Kohn for success defending those accused of committing a crime in Georgia.
Along the many years in law practice with Mr. Head, a new law partner emerged from an unlikely source. Cory Yager, Cobb County criminal lawyer, once served for over 4 years as a Cobb County police officer. After law school, he passed the Bar in 2008 and joined Mr. Head and Mr. Kohn as a criminal defense attorney Marietta GA, becoming a partner in 2015.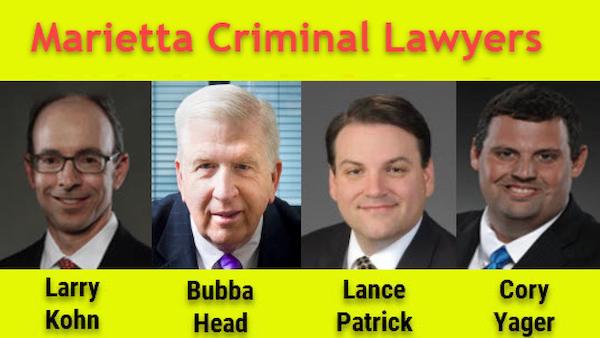 So, if you are searching for an aggressive and successful Cobb criminal defense law firm, you have found the web page you have been seeking. Often called the best criminal defense attorney in Cobb County, William Head, our senior partner, has won cases that others thought were unwinnable.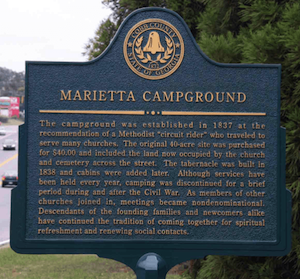 Our Marietta GA attorneys routinely appear in these Cobb County courts:
Cobb Superior Court (felony indictments and other criminal cases, with a jury trial of 12 jurors available)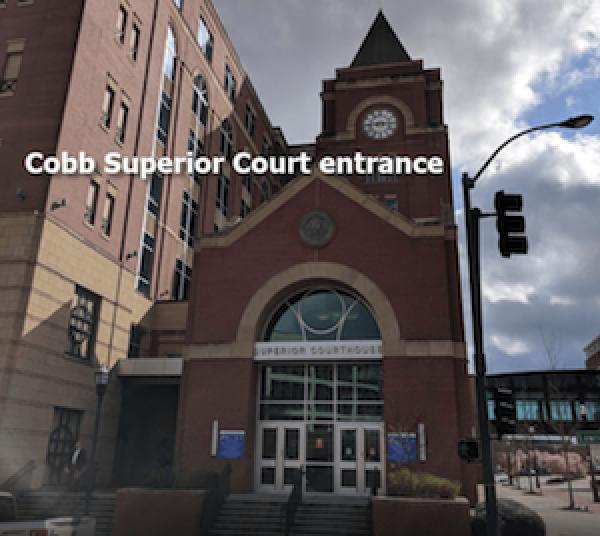 Cobb State Court (misdemeanor accusations and county ordinance violation cases, with jury trial of six jurors available)
Cobb County Magistrate Court (judges here primarily handle search warrant issuance, preliminary hearings, and bond hearings)
Cobb County Juvenile Court (Dealing with youthful offenders ages 16 and under)
OSAH (GA Office of State Administrative Hearings – the Georgia administrative law court) for implied consent hearings in drunk driving cases
Plus, if you or a family member has a traffic ticket or other misdemeanor charge (e.g., simple possession of marijuana) in the six Cobb County municipal court locations our law firm near me has a criminal defense attorney Marietta GA to handle that case. In every case our lawyers accept, the top goal is to keep a criminal conviction off our clients' criminal records.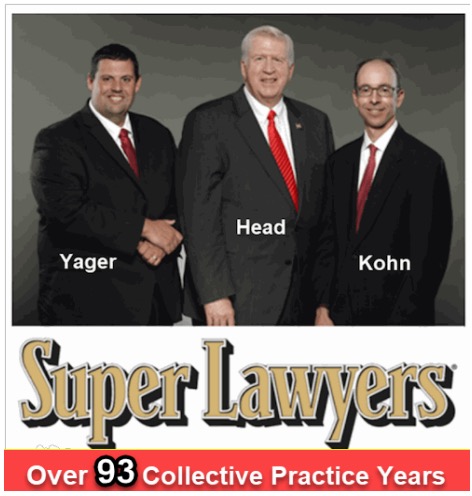 These 6 Cobb County GA Municipal Courts are entry-level courts that offer a non-jury trial:
Municipal Court of Marietta (Marietta traffic court)
Municipal Court of Smyrna, where Larry Kohn, DUI attorney Marietta GA routinely appears.
Kennesaw Municipal Ct, where DUI arrests in Kennesaw GA originate.
Acworth Municipal Court
Municipal Court of Powder Springs
City of Austell Municipal Court
Jury Trials Are Available on Every Misdemeanor or Felony Case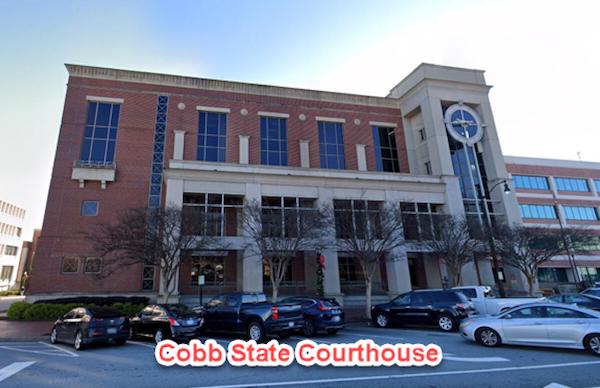 Cobb County State Court is the misdemeanor "jury trial" court for Cobb County. It is also known as the State Court of Cobb County GA or "Cobb State Court." So, any criminal case in any of the 6 Cobb County municipal courts (shown above) that cannot be resolved by a negotiated plea in these non-jury courts can be bound over (moved to) State Court of Cobb County, where a 6-person jury trial is available.
All our criminal defense attorney partners are thoroughly familiar with the criminal courts in Cobb County, including the local rules and various pre-trial procedures. Plus, through experience and consultation with each other, our lawyers in Marietta have learned the judicial tendencies, sentencing practices, proclivities, and temperaments of various judges in Cobb County.
These Are the Main Practice Areas Handled by Our Criminal Lawyers in Marietta GA:
Assault, battery, and simple assault offenses
Conspiracy crimes, ranging from drug transactions to alleged political payoffs.
Domestic Violence in Georgia (also called Domestic Abuse or Family Violence)
Cobb County DUI arrests needing a Marietta GA DUI lawyer.
Filing for a Record Restriction or Expungement
H1B Visa Immigration issues for non-residents facing a felony or misdemeanor crime.
Juvenile Court crimes and delinquency determinations
Prostitution, Masturbation for Hire or Pandering
Sex Crimes, including child molestation, statutory rape, and sexting offenses.
Criminal trespass GA
Solicitation of sex
Speeding Tickets, including Super Speeder GA
Campus crimes and related Student Defense
Theft Charges, such as embezzlement, theft of services, shoplifting
Traffic Ticket offenses of all types and at all locations in Georgia
V.O.P. (violation of probation)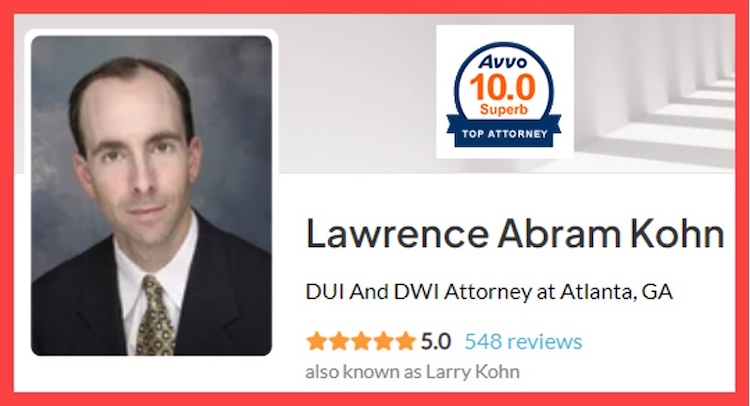 Call Marietta criminal lawyer Larry Kohn Head or one of his other law partners today at (404) 567-5515 or 1-800-462-8222 and put their collective 93 years of successful Marietta criminal defense on your side.
Our lawyers near me offer a 24-hour attorney for a FREE consultation on Cobb County or Marietta cases. Our criminal defense law office provides you with a FREE professional case evaluation whatever time of day or night you call – weekends and all holidays, too. If a legal fee payment plan is needed, we can provide that to fit most clients' budgets.
Marietta GA Office Location
109 Anderson St SE, Suite 10
Marietta Georgia 30060
Phone: 800-462-8222 or (404) 567-5515
Fax: (404) 602-0929
CALLS ANSWERED 24 hours a day 7 days a week