Drug Trafficking: Hiring the Best Drug Attorney in Atlanta
As is the case with most states, the State of Georgia does not take drug offenses lightly. Neither does the United States Attorney, who can take over a trafficking case and prosecute under federal law. History has proven that addictive substances that tend to render its addicts useless as members of the workforce cause great economic harm.

Wikipedia has an excellent, short history of how drug addiction and its impact on nations has helped create international cooperation to stop trafficking of many drugs and marijuana. Drug trafficking is viewed by lawmakers in all countries as a serious crime. Penalties imposed in some counties in Asia and the Middle East can include execution, or life in prison with no chance of parole or probation.
Basically, if proof of international "dealing" or crossing state lines and trafficking exists, this is information that can support a federal indictment for violating interstate drug trafficking laws. The lure of making big, quick money is what leads most to getting involved in such high-risk, dangerous criminal activity.
Like America, most nations worldwide look at the type of drug involved (and its classification for "harm" within the country into which it is being trafficked), the quantity trafficked, where the drugs are sold and how they are distributed. When firearms are present or the drugs are sold to young people that are identified in each jurisdiction's statutes, then the penalties for drug trafficking crimes may be even more severe than in other circumstances.
Much of the crime in Atlanta GA is somehow connected to drugs, and law enforcement knows this connection to our crime rate. To get an idea of the severity of sentencing in drug trafficking cases, go to the comprehensive article on penalties for any criminal offense pertaining to drug crimes written by our GA lawyers (see bottom links).
Drug Trafficking Definition: Black Market Commerce of Large Quantities
Drug trafficking laws are those statutes that criminalize the acts of any person who "sells, manufactures, delivers, or brings into this state or who is in possession" of certain identified drugs and substances. Similar laws making it a felony crime to engage in cultivation, manufacture, distribution, and sale of illicit drugs exist in almost every nation.
Except as allowed through doctors' prescriptions, all nations "control" any sale or use of these types of dangerous drugs. In the United States, marijuana trafficking is the substance for which the most lenient sentencing guidelines may be available in Georgia under OCGA 16-13-31. This is partly due to the fact than many daily marijuana users do work for a living, and most heroin addicts do not.
With draconian prison terms and (in some jurisdictions) with no chance for early release, accused offenders have everything on the line. Forcertain classes of drug crimes, if found guilty of these drug offenses, it is essential for the accused to seek aggressive criminal lawyers Atlanta GA who can assert their rights (like Miranda rights) and pursue fairness from the judicial system.

Drug lawyers near me like ex-cop Cory Yager, an award-winning Atlanta criminal defense lawyer who know both sides of criminal law. With mandatory minimum sentencing in place for drug related crimes, looking for 20 years of experience (or more) in a drug crime attorney is imperative. If you count his police and legal careers together, that is 22+ years of criminal case involvement.
Knowing Your Legal Rights and Exercising Them is Crucial
Because many of criminal law cases are lost by clients "talking" to police, and the phone calls of clients to or from jail (which are ALL recorded) our law firm does not count on your prior drug charge attorney to have advised you of your legal rights. Follow the link to this video on legal advice when suspected of any crime, and the rules should be memorized.
Even those who are not first offenders often do not get PREVENTIVE legal instructions (on what NOT to say to police when confronted) from their prior drug defense lawyer. Our criminal law attorneys make a POINT to educate our clients when we meet them in person.
Drug Crime Defenses available in Some, but not All, Drug Cases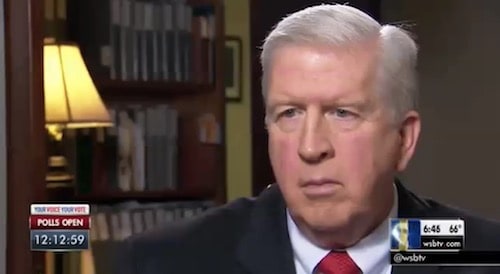 Our trafficking clients want to know how to get a DRUG trafficking charge dismissed. No single answer exists for this question, but it can be done if our investigation finds a fatal flaw that creates the likelihood of a nolle prosequi (dismissal). In his 44 years, William (Bubba) Head has had over 100 criminal cases nol prossed.
The formula for success for drug charge lawyers usually is comprehensive review of the State's case, looking for errors, inconsistencies, and a failure of proof. Sometimes, police use illegal techniques and devices to spy on our clients, without first obtaining a judicial search warrant.
The job of a criminal lawyer defending you is to set up "hurdles" (by filing motions to suppress or limit evidence) from coming into the trial. Think of these challenges to be like "hurdles" in a track competition, where the high hurdler must "clear" each barrier.
Good criminal lawyers have found many winning defenses when the government's evidence is based only on constructive possession. This is how Wikipedia described this legal term, as paraphrased by the author:
Constructive possession is a legal fiction to describe a situation in which an individual has actual control over chattels or real property without having actual physical control of the same items. In criminal law, a person with constructive possession stands in the same legal position as a person with actual possession, if sufficient proof is produced by the Government.
An experienced drug attorney in Georgia will possess detailed knowledge of state and federal law and will work diligently to find holes in the state's case. Because many drug charges are the product of unconstitutional searches and seizures, it is often possible for your Atlanta criminal attorney to successfully attack prosecution theories on this threshold question of the legality of the search and seizure.
In all situations, however, the sooner legal representation is obtained with a criminal defense attorney Atlanta who knows the "ins and outs" of these cases, the sooner a solid defense can be built. Don't bet your future in a criminal case on a family law attorney or simply pick the lawyer with the best suit and tie from a lawyer directory that has nothing but a state bar license for his or her credentials.
With so much a stake in every drug case that is brought, there really is no time to lose. Experienced drug defense lawyers like Larry Kohn will caution that this is particularly true for defendants with prior criminal records who may be facing many 25 to 30 years of imprisonment if found guilty of cocaine charges involving quantities reaching trafficking levels.

Best Criminal Lawyer Near Me in GA for a Drug Trafficking Charge
When it comes to preserving personal liberty and maintaining your prospects for a productive life, it is crucial that you leave nothing to chance. Getting caught with an ounce of coke by Atlanta police may be a diversion case or first offender plea, but no such non-jail option exists for a trafficking conviction. Hire a drug trafficking lawyer that is among the top ten criminal defense attorneys in Atlanta Georgia to work on your defense, by comprehensively investigating the facts and leaving no stone unturned.
To learn how a drug lawyer in Georgia that is also a top criminal defense lawyer can make a big difference, call today at 404-567-5515 for a free consultation. To help safeguard your access to justice and team up with a criminal defender who will respect and defend your rights following an arrest, contact us at our law office to find the right GA attorney to be your Atlanta criminal lawyer.
Other Helpful Links: