CDL License: Can you Get a CDL with a DUI in Georgia?

By: Georgia CDL Lawyer near me and Ex-Cop Cory Yager, who answers Basic CDL License GA Questions
This article provides a basic overview of the common question put into a Google search: "Can I get a CDL with a DUI?" This broad question can be interpreted several ways as to the questioner's legal driving status, including these alternatives:
The person already has been convicted and needs information on when and how a CDL license overlay can be obtained. This question is really: "Can you get a CDL if you have a DUI?"
The person has been arrested, but not convicted, and is needing to know how to beat a DUI and save his or her commercial license; or
The driver may be inquiring about pushback from motor carriers in hiring any person with a driving while intoxicated conviction in the past.
7 FAQs About CDL License Requirements and Suspensions
1. What is a CDL? The acronym CDL stands for "commercial driver's license." Intensive safety training at a CDL license school and (later) receiving practical, hands-on instruction are mandated before any CDL student can take his or her CDL license test.
These special permits (once obtained) allow the CDL licensee to drive high risk, heavy vehicles or passenger vans that carry 16 or more passengers. In using these special overlay license permits, being behind the wheel will carry all kinds of restrictions on the duty period that you can drive a big rig vehicle called "HOS rules."
Due to the special dynamics of cab-trailer transport, all candidates for CDL driving permits must be able to react to adverse driving conditions, when a jackknife truck crash is much more likely. Operating a commercial motor vehicle (CMV) requires a special driver license "overlay" to be able to command the highest pay for truck drivers.
2.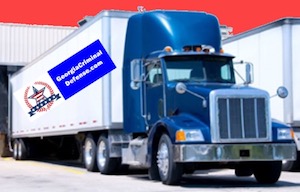 What are the CDL license requirements for keeping a CDL driver license after a DUI? A person acquires a CMV license through his or her local DMV, DPS, BMV, SOS or other state driver's license issuance office. Then, the trucker will need the special driving permit to legally drive a CMV, which is a commercial motor vehicle, as defined under the FMCSA (Federal Motor Carrier Safety Administration)
3. Does the Georgia Department of Driver Services have special Georgia CDL requirements for its Georgia CDL Test? Yes, to get CDL license approval, CDL school in GA types of CDL licenses how to get CDL in GA CDL practice test GA CDL training in GA.
4. Can I get a CDL with a DUI? Many different acts or criminal convictions can cause CDL disqualifications. Lesser violations suspend for shorter periods of time, but serious ones, like 2 reckless driving convictions or even one DUI conviction, disqualify for a full year.
5. How is a Class A CDL license different from a CDL B license? A CDL class B license only allows smaller loads. Class A allows tandem trailers.
6. What are the basic hours of service rules and hours of service regulations for consecutive hours off duty time?CDL hours of service were modified, effective September 29, 2020, to expand and relax prior limitations on hours that a driver could be on the road.
7. Which CDL lawyer and law firm has expertise in saving commercial driver's licenses? See our CDL Attorney contact information below, or just dial 404-567-5515.
Can I get a CDL With 2 DUI Convictions?
Because interstate commerce is regulated by federal laws, all aircraft, railroads, and over-the-road transport between states is regulated by the United States Department of Transportation. As is stated in their website, "The Federal Motor Carrier Safety Administration (FMCSA) and its predecessor agency has defined drug and alcohol testing rules and regulations for employees who drive commercial trucks and buses that require a commercial driver's license (CDL)."
While a DUI-DWI conviction is bad, methods of waiting to get reinstated exist after a 1st offense DUI (at least 1 year), or possibly a second DWI-DUI offense (by waiting at least 10 years to re-apply for CDL).
For some felony crimes committed in a commercial motor vehicle, a lifetime disqualification is applicable. The difference here is the seriousness of trafficking or transporting drugs versus perhaps receiving a DUI in a private motor vehicle but being disqualified to drive an 18-wheeler.
This tough federal law disqualifies a person for LIFE:
First conviction of using the vehicle in the commission of a felony involving manufacturing, distributing, or dispensing a controlled substance, or using a commercial motor vehicle in the commission of a felony involving an act or practice of severe forms of trafficking in persons as defined and described in 22 U.S.C. 7102 (11).
Other traffic violation provisions of federal regulations call for loss of driving privileges for 60 days or 120 days, for certain disqualifying offenses that are less serious than drunken driving or drugged driving. Some HAZMAT regs are much tougher and less forgiving, such as not having the stickers placed on every applicable part of the trailer.
CDL Atlanta Lawyers for Defending Pending Motor Vehicle Crimes Like DUI GA
Our three award-winning DUI defense lawyers know the laws relating to both intoxicated driving and saving CDL licenses. Atlanta metro counties have dozens of CDL training programs for those who are qualified to driver commercial trucks or buses. Just Google "special schools that offer classes to get a CDL license near me" to find several available programs to help you get CDL jobs Atlanta.
Call today for a FREE lawyer consultation. 404-567-5515. Larry Kohn, William Head, and author Cory Yager are ready to serve you.