DUI Lawyer GA: Atlanta DUI Attorneys & Law Book Authors
In the online search for the best lawyer in Atlanta for drunk driving defense, those searching for affordable DUI lawyers in Atlanta will find one of our websites among the top-ranking criminal law firms Atlanta. Among practicing criminal attorneys in drunk driving defense in Georgia, William Head, DUI attorney Atlanta, GA is often called the best DUI attorney in Atlanta.
In 2003, at the 8th Annual NCDD summer DUI defense lawyer program conducted in Austin Hall on the Harvard Law School campus, Bubba was VOTED by the then-800 members of the national organization to be the best DUI lawyer in America. He is now one of three Georgia attorneys who is Board-Certified in DUI defense.
The Columbus, Georgia native turned award-winning Atlanta criminal defense attorney is a Double Dawg from the University of Georgia. The 46-year veteran DUI defense attorney's nickname "Bubba Head" is synonymous with aggressive and successful DUI defense in Georgia, since our lawyers travel statewide when retained by someone who must make every effort to win their DUI case.
Because the four metro Counties (Gwinnett County, Cobb County, DeKalb County and Fulton County) have over 40% of all DUI arrests, our 4 office locations are situated here. Yet, our lawyers for DUI near me also periodically travel to Athens, Columbus, Statesboro, Macon, Augusta, and Savannah, when retained for criminal law cases there.
Georgia DUI attorney Bubba Head, often named as best DUI attorney in Atlanta Georgia, is also one of the best DUI attorneys in any part of the State of Georgia. The Georgia native has concentrated on criminal law (with heavy emphasis on DUI in Georgia) since graduating from the University of Georgia School of Law in 1976.

IMPORTANT ALERT: Almost 100% of all DUI charges create a separate, administrative license suspension legal proceeding that is not part of the criminal prosecution.
If your plastic license was taken, assume that you are facing this emergency problem. ALL these cases require --- within 30 days after arrest--- that the driver either file an appeal to the Georgia Department of Driver Services (with the $150 filing fee) or (if eligible) that she or he qualify for and install a 12-month ignition interlock device and obtain the DDS GA limited permit.
DUI Defense Is a Subset of Criminal Defense Law Practice
While Mr. Head and his other two top attorneys in Atlanta have defended those charged with white collar crimes (e.g., embezzlement) and violent crimes, including aggravated assault, battery, domestic violence GA, murder charges, their co-authorship of multiple legal articles and books on DUI defense has made them the State's best known DUI attorneys Georgia.
Plus, the law firm of the DUI Attorneys GA is staffed by top-rated criminal attorneys near me. Each litigation attorney is known for excellence in the field of drunk driving defense. Collectively, the law firm's collective recognitions for annual lawyer ratings in the DUI defense field exceed 75 separate awards.

Mr. Yager has built a solid statewide reputation for traveling the entire State of Georgia to defend those in need of a favorable outcome. Most DUI attorneys near me stay within a 30-mile radius of their law offices, since traveling uses a lot of time, and the defense of accused drunk drivers is not profitable for them when driving to and from distant courts is required.
The cases have included theft crimes, vehicular homicide GA, and even domestic violence Georgia cases. However, when Mr. Head (or Mr. Yager) goes to St. Simons, Athens, Macon, Dalton, or Columbus GA, it is to defend a person charged with a crime, and that crime is usually driving under the influence.
Larry Kohn, DUI lawyer Atlanta, GA, and his two law partners have over 700 AVVO ratings in the Atlanta DUI lawyer reviews. No other 3-person DUI law firm in all of Georgia has more AVVO FIVE-STAR lawyer ratings than these DUI lawyers in Atlanta. Our attorneys for DUI defense are routinely included as legal seminar speakers.
GA DUI lawyer Larry Kohn, an Emory University undergrad and former stockbroker, has been working with Bubba Head since he finished his first year of law school at Georgia State University in 1996. All three law partners NHTSA instructors for the field sobriety tests used by police officers at the roadside to gather evidence against our clients.

Atlanta DUI Attorneys Who Travel Statewide to Help DUI Clients
DUI Lawyer Atlanta Cory Yager was born into a farm family in upper state New York. The DUI attorney Atlanta, GA became a firefighter and EMT at age 18, before deciding to move to Georgia to become a police officer with the Cobb County Police Department. At our office, we know that Cory is one of those rare criminal defense attorneys who travels statewide to be you DUI attorney Georgia, regardless of court location.
While employed as a policeman, the Georgia criminal lawyer was also trained at the National Computer Forensics Institute in Hoover, Alabama where he served as a law enforcement officer. Mr. Yager is also a NHTSA DWI Standardized Field Sobriety Test instructor. What better background could a person possess before starting a legal career, fighting DUI criminal cases?
The ex-cop started working with Bubba Head as soon as he passed the Georgia Bar, because (as a policeman) he would have been conflicted out of being a law clerk at our firm. He is a six-time recipient of being named to Super Lawyers "Rising Stars" category for the best Georgia attorneys near me under age 40. In his 15 years working in DUI defense, Cory Yager has successfully had over 1,000 Georgia DUI cases reduced to non-DUI dispositions, making him one of the top DUI lawyers in Atlanta.

Our Typical Client. When a person in Georgia is arrested for DUI in GA, he or she is shell-shocked by the dehumanizing processed of being accused of being a criminal. Then, being cuffed and being fingerprinted, and required to take a "mugshot" before being put into a prison population before getting bail and bonding out. Once bonded out, the person usually goes to the Internet in search of lawyers near me for DUI.
After dealing with recovering the citizen's car or truck, the next step is to find the best criminal defense attorney near me in Atlanta who is a DUI specialist. You will find hundreds of Georgia attorneys advertising for being the best DUI defense lawyer, but legal industry credentials do not verify their claims of special expertise.
Each state has different DUI laws. DUI lawyers are criminal defense attorneys focused on representing clients facing a criminal charge. Experienced DUI lawyers can evaluate the DUI case against you and lay out options on how to best limit the impact of the charges against you. DUI lawyers also handle related cases such as driver's license suspension, license reinstatement, and DUI appeals of administrative law decisions.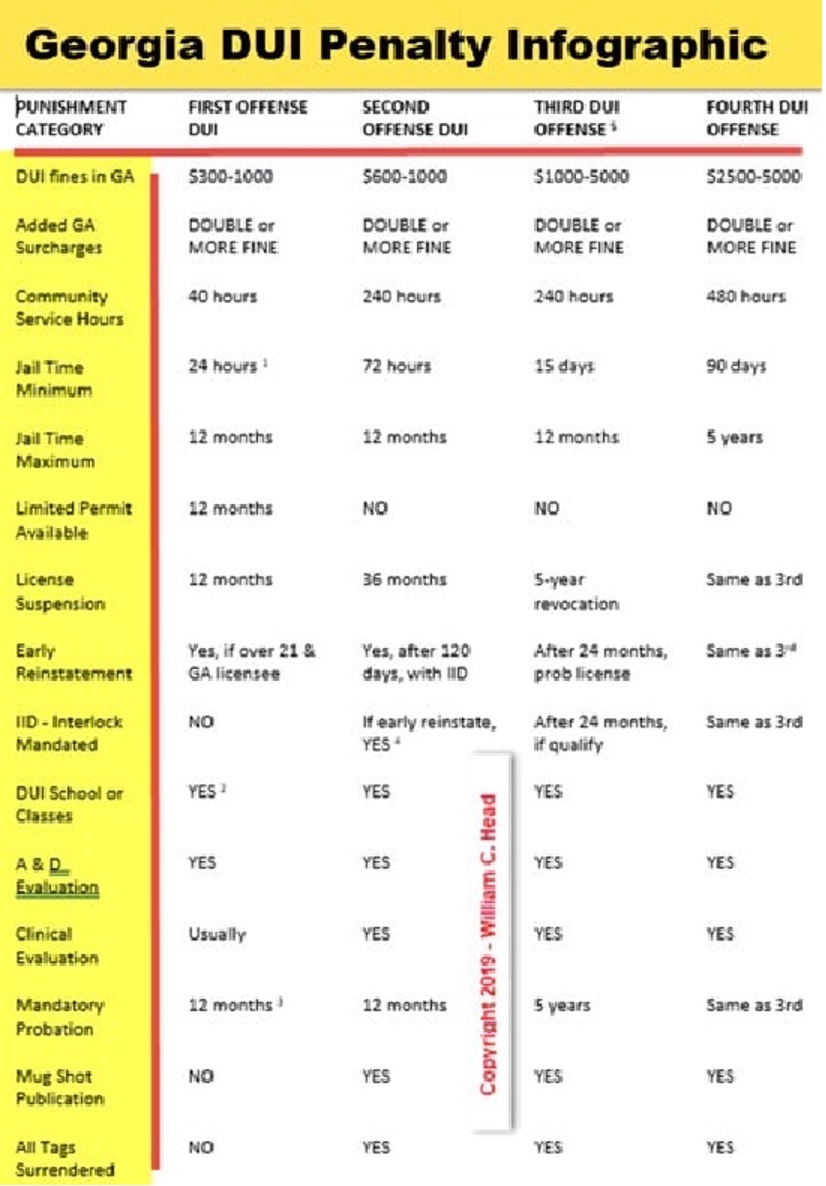 For 82% of our clients, it is their 1st DUI, and our attorneys have been successful in obtaining some reduction of DUI charges. This includes former clients for whom a DUI attorney Atlanta GA from Mr. Head's DUI law firm won the person's previous case or had a prior DUI charge reduced, even with a high blood alcohol level.
A reduction often entails our client doing many of the same conditions of a standard DUI in GA, but the case being disposed of as a non-DUI disposition. This will be to complete DUI school Atlanta, be evaluated to make sure you are not prone to re-offending, performing community service hours, paying fines and usually being on probation for some period. See this GA DDS link to locate state-certified driving schools in the Peach State.
Our Atlanta Lawyers' Legal Publications Educate Other DUI Lawyers
The Georgia DUI Trial Practice Manual is annually updated and published by the world's largest legal book publisher, Thomson Reuters. This book is the "bible" of Georgia DUI laws since 1995, and sits on the desks of many judges, prosecutors, and other criminal defense attorneys.
Starting in 2023, both Mr. Yager and Mr. Kohn will be co-authors of this one-of-a-kind legal book, along with Mr. Head. Mr. Head's longtime co-author, Frank Gomez, passed away unexpectedly on December 27, 2021.
DUI attorney Atlanta GA Bubba Head became nationally famous when he published the first meaningful legal book on "how to beat a DUI." That book, 101 Ways to AVOID a Drunk Driving Conviction, which he co-authored with the late Reese I. Joye, Jr., the legendary South Carolina DUI guru who terrorized police officers for over 45 years in the Palmetto State prior to his death in 2008.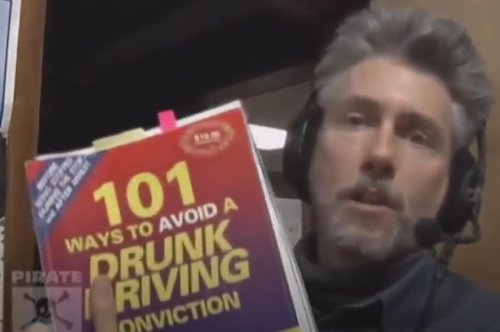 That first DUI book sold over 12,000 copies, making it the best-selling drunk driving book of its type in America. Mr. Head has authored or co-authored over a dozen other law books on DWI-DUI in Georgia and other states.
Arrested and Charged with a DUI or DWI? Call Today for Legal Help
Who are the best DUI lawyers in Atlanta GA? Like asking to name who the top ten pitchers in major league baseball were in 2022, multiple factors (e.g., like a wicked "slider," or 95-mph fastball) play a role in identifying the true top lawyers in Atlanta. All three of our affordable DUI lawyers nearby in metro Atlanta, GA would be one of those top Georgia pitchers, if we were talking about baseball.

Our Atlanta law firm has three of the top 10 DUI defense attorneys near me, including Mr. Head who ranks at the top, based on his unique, one-of-a-kind book authorship accomplishments. This includes authoring or co-authoring books across America, defending DUI vs DWI cases in other states, plus receiving honors, recognitions, awards, and legal industry achievements like these:
Rated by all 4 recognized attorney ratings groups for longer (or at least as long as) any other Atlanta DUI attorneys): Best Lawyers in America, Super Lawyers, Martindale-Hubbell, and U.S. News and World Report for the Best Law Firms in Georgia.
The DUI attorney Atlanta GA is one of 3 Board-Certified DUI lawyers in all of Georgia for DUI-DWI defense, according to the National College for DUI Defense (NCDD.com). William Head was three times named to be the best Atlanta DUI lawyer by Best Lawyers in America (2012, 2017 and 2022).
The ONLY DUI lawyer in America ever named by members of the NCDD for being the Best DUI lawyer in America in 2003 at the Summer Session. In addition, since 1991, the only invited seminar speaker from Georgia at over 150 out-of-state or national seminars on DUI-DWI-OWI defense.
Bubba Head is the only Georgia lawyer to ever author or co-author over a dozen books on DUI-DWI laws.
Georgia DUI-DWI Attorneys: What Our Law Firm Does
Our Atlanta criminal defense lawyers can explain Miranda rights, the Georgia implied consent law, illegal search and seizure at traffic stops, defenses to your criminal charges, and the likely path that the pending criminal accusation or indictment will take. Call today to speak with one of our top-rated DUI attorneys?
What do you have to LOSE with a FREE consultation? The legal advice, appointment and no-cost, initial attorney consultation with an Atlanta Super Lawyer may help you get a good night's sleep for the first time since your arrest. Even if you were arrested in another state, like Texas, our legal team can direct you to a top-rated DWI lawyer near me in whatever city your arrest took place.
Other DUI Information Links
Main Criminal Law Practice Areas Handled by Our Criminal Lawyers in Atlanta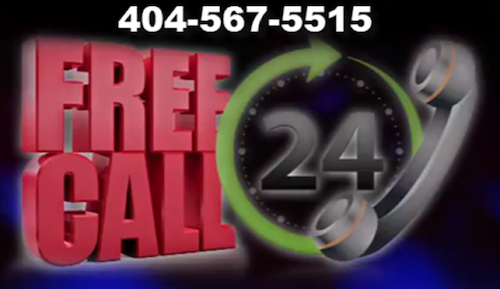 Do not let your family law lawyer that handled your divorce try to handle a complex DUI case. Plus, if you are seeking cheap dui lawyer Atlanta GA, you are at the wrong website since our attorney near me do not quit fighting until our client has exhausted every opportunity to win. Call today at 404-567-5515 for 24-hour-a-day legal help.