Criminal Lawyer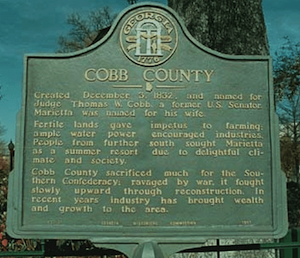 Just like his law partners , Marietta criminal defense lawyer William C. Head has handled hundreds of criminal defense cases in Cobb County criminal courts over the last 43 years. Each Cobb County judge, prosecutor, and police officer in Marietta, Georgia knows him. Mr. Head and his partners have all enjoyed success defending and serving clients in Marietta GA.
Mr. Head and his two law partners prefer handling the defense of criminal offenses in Cobb County GA to any other jurisdiction. Cory Yager, criminal defense attorney Marietta GA, started his police career as a Cobb County police officer over two decades ago. Mr. Yager is also our law office's "go to" criminal law attorney for Forsyth and Cherokee counties since he resides north of Cobb County GA.
Larry Kohn has over 20 years of experience as a criminal lawyer in Marietta GA. He regularly appears for accused citizens in:
Cobb State Court (misdemeanor criminal cases)
Cobb Superior Court (felony crimes)
At an OSAH ALS hearing for DUI implied consent hearings (GA Office of State Administrative Hearings–the Georgia administrative law court)
The Cobb Magistrate Court (for search warrant issuance, preliminary hearings, and jail cases in need of a bond hearing)
The Cobb Juvenile Court (that pertain to delinquency petitions against youthful offenders age 16 and under)
Every Criminal Defense Attorney Marietta GA Is Top-Rated at Our Criminal Justice Law Office
Without question, senior partner William C. Head has been one of the dominant forces in Georgia criminal defense for the last 30 years. Handling both personal injury and DUI defense, he has represented clients accused of committing crimes in the state of Georgia and other states. His clients include professional sports figures, celebrities, and everyday Americans just like you who have faced felony or misdemeanor criminal charges.
All three criminal defense Marietta GA partners have been recognized by the legal rating service called "Super Lawyers." Plus, for over a decade, the entire firm has been rated as a Tier 1 "Best Law Firms" by U.S. News & World Report. Why would you want to discuss your criminal case with anyone else?
William Head – Best Lawyers in America, Martindale "av" preeminent, and Super Lawyers
Larry Kohn – Super Lawyers, Best Lawyers in America, and over 440 AVVO five-star reviews
Ex-Cop Cory Yager – Martindale "av" with a 5.0 rating and "Super Lawyers "Rising Star" for six straight years (a category for the best lawyers in Georgia under the age of 40).
All three of our criminal defense attorneys in Marietta vigorously defend clients facing criminal court charges in the six Cobb County municipal court locations, and each partner at our DUI law firm accepts the responsibility to look for all avenues of criminal case resolution that will keep a DUI conviction off our clients' criminal records.
These 6 Cobb County Municipal Court locations are as follows, in alphabetical order:
Acworth Municipal Court
Austell Municipal Court
Kennesaw Municipal Court
Marietta Municipal Court (Marietta traffic ticket court)
Powder Springs Municipal Court
Smyrna Municipal Court
Jury Trials Are Available On Every Misdemeanor or Felony Case in Cobb County
Cobb County State Court is the misdemeanor "jury trial" court for Cobb County. This court is also known as the State Court of Cobb County GA or "Cobb State Court." So, any driving under the influence case in a Cobb County municipal court that cannot be resolved by a negotiated plea to a crime other than DUI gets bound (moved) over to State Court of Cobb County, where a 6-person jury trial is available.
All criminal defense lawyer partners at our law firm are familiar with the Cobb County criminal courts, including the trial procedures, and the judicial tendencies and temperaments of various judges in Cobb County. All of our law partners are members of the Cobb Bar Association.
This intimate knowledge of your criminal court case assists our clients in knowing what to expect in their DUI court case. We are happy to provide more Marietta criminal defense lawyer information about all three partners when you come in for your FREE professional case assessment.
We Fight Felony or Misdemeanor Cases in Cobb County, GA
Our Marietta DUI lawyer criminal defense firm handles:
Misdemeanor cases in Cobb County State Court – especially DUI drugs and DUI alcohol
Felony drug cases – possession, possession with intent to distribute, and drug trafficking in Cobb County Superior Court. Possession of more than an ounce of weed is a felony in Georgia.
Other felonies such as embezzlement, fraud, theft, domestic battery, and stalking in Cobb County Superior Court
For over four decades, Georgia criminal defense attorney Bubba Head has been defending clients facing criminal charges across the state of GA. The majority of clients are citizens charged with misdemeanor DUI offenses, felony DUI charges, DUI drugs, marijuana possession, DUI with child in car charges, vehicular homicide, serious bodily injury by vehicle, hit and run, and family violence offenses.
Repeat DUI offenders, like citizens facing a 2nd DUI, 3rd DUI, or 4th DUI felony offense, are regular clients for our law firm's partners, each of whom is a DUI lawyer. People facing the serious penalties of a DUI second offense or DUI third offense call us, even if they've used a public defender or cheap lawyer on their first DUI charge.
Marietta Criminal Defense Attorney: Jury Trials Only Occur in Cobb State Court or Cobb Superior Court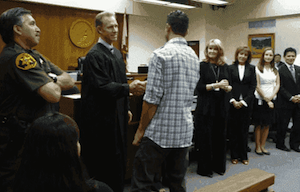 Except for a DUI felony, first-degree vehicular homicide, or serious injury by vehicle felony, the State Court of Cobb County processes all DUI misdemeanor cases originating in the unincorporated parts of Cobb County. Plus, cases bound over from Cobb County municipal court locations come to Cobb State Court for their jury trials.
The misdemeanor criminal cases being processed in the State Court of Cobb County include all misdemeanor arrests NOT made in one of the six municipalities. Also, for traffic ticket or other misdemeanor cases that require trial by jury, Cobb County State Court is where misdemeanor cases go to trial.
Additionally, for multiple drunk driving offenders who could face harsh jail time, some offenders opt to seek intensive probation at the Cobb County DUI Court program. This option necessitates a bind over (transfer) of a municipal court case to the State Court of Cobb County.
No municipal court is set up to oversee cases in the DUI Court special treatment alternative program. Cobb State Court is the place for trial, for negotiating a reduction (plea), participating in the DUI Court, and conducting meaningful pretrial motions hearings.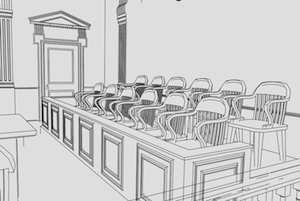 Because the Georgia Constitution bars the State Courts from processing felony criminal matters, the Superior Court of Cobb County handles all felony criminal charges, such as the types of cases set forth above. These cases include 12-person jury trials or bench (non-jury) trials for felonies.
Our criminal defense attorneys Marietta handle various types of felony charges each month, but most of those felonies are for public indecency or sex crimes, domestic violence, marijuana-related drugs like possession with intent to distribute, trafficking, or alcohol-related cases, like felony homicide by vehicle while DUI, and serious injury by vehicle, while drunk or stoned.
How Excluding State Evidence at a Pretrial Motion Hearing Helps You Win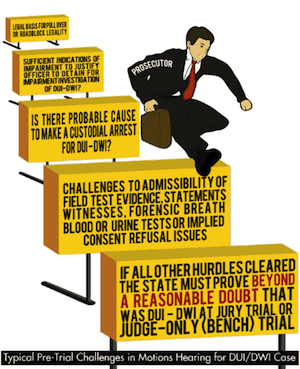 The graphic below helps you visually understand how filing, researching, and arguing pretrial motions in a criminal prosecution can be vital to winning. If the State's evidence is now whittled down to fewer witnesses or items of forensic evidence, most clients would lose their criminal trials. Motions might be instrumental in throwing out evidence of a GBI test or an Intoxilyzer 9000 breathalyzer .
Learn more about other criminal cases and the possible punishments associated with them. Remember that an indictment is NOT a determination of guilt. This charge is merely a vote by citizens who ONLY hear from the prosecution's witnesses, who are saying that the case has enough evidence for the case to be placed on a felony trial calendar.
Obtain your FREE lawyer consultation today by dialing (404) 567-5515. Our award-winning criminal lawyers in Marietta GA will call you back 24 hours a day.
Marietta GA Office Location
109 Anderson St SE, Suite 10
Marietta Georgia 30060
Phone: 800-462-8222 or (404) 567-5515
Fax: (404) 602-0929
CALLS ANSWERED 24 hours a day, seven days a week