Georgia DUI Laws: DUI Penalties and Consequences on DUI GA

By: Atlanta DUI and Criminal Defense Attorney William C. Head, Georgia Law Book Author or Co-author since 1995
The Official Code of Georgia Annotated (O.C.G.A.) is the name for our compendium of Georgia laws on all civil, procedural, and criminal legal topics. Certain sections of the GA Code (as set forth below) focus upon DUI Georgia law, DUI consequences Georgia, implied consent laws and related topics.
Because license suspension or license revocation is a DUI penalty that occurs with every conviction for a DUI offense, the Georgia Department of Driver Services role in regaining driving privileges must be addressed. For some drivers, an ignition interlock device (IID) can be installed for early license reinstatement of a driver license, obtaining restricted driving privileges.
With a 2nd DUI in Georgia conviction within 5 years, a minimum waiting period is 120 days. Also applicable to these second DUI offenders, all license plates of the convicted driver are confiscated at court and sent to the Georgia Department of Revenue.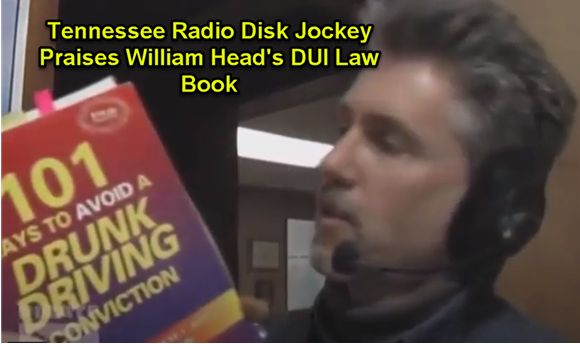 Driving Privileges Impacted by Convictions for DUI in Georgia
O.C.G.A. 40-6-391: Provides the "elements" of various driving under the influence crimes, like DUI-alcohol, DUI-drugs, or impaired driving by ingesting or inhaling other intoxicating substances. The statute sets forth minimum mandatory penalties for first offense DUI, 2nd DUI, 3rd DUI and subsequent DUI convictions. Subsection (l) covers special DUI child endangerment GA provisions for any passengers under the age of 14.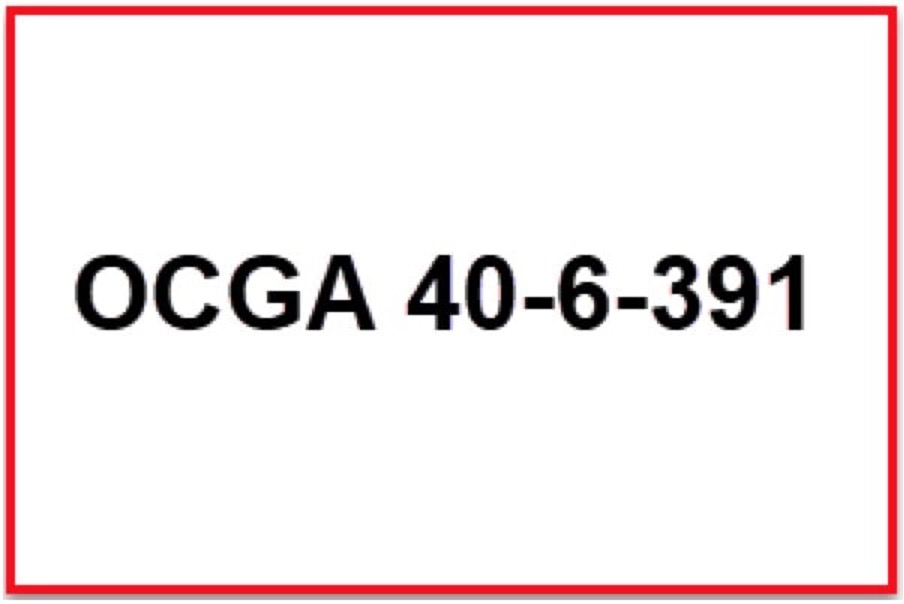 Within these categories, you will find helpful DUI case links on DUI laws in GA (within the text and in bottom links). Plus, DUI penalty charts will be available to give a quick overview the laws of the State of Georgia that may pertain to your specific facts.
If it is a 1st DUI within five (5) years, a limited driving permit (good for up to 12 months) is available to Georgia licensees ages 21 and over at the time of the case disposition. After 120 days, that driver can apply for reinstatement of his or her full license if that person has completed the risk reduction program and pays the reinstatement fee.
Community service of at least 40 hours applies in all DUI GA cases. In addition, attending DUI school (called the risk reduction program) is a pre-requisite for regaining driving privileges.
Jail time of 24 hours in custody is the norm for first DUI offenders. Every GA DUI case has not less than 12 months or mandatory probation minus any days served in jail. A DUI attorney with our law offices near me can explain other specific DUI conviction consequences at our free lawyer consultation.
Chart of DUI Punishments and Other Drunk Driving Penalties
This DUI chart of penalties and consequences of a DUI gives a summary of DUI first offense and repeat offenses. Clearly, the Georgia legal penalties for first DUI are mild compared to what could happen with subsequence DUI convictions.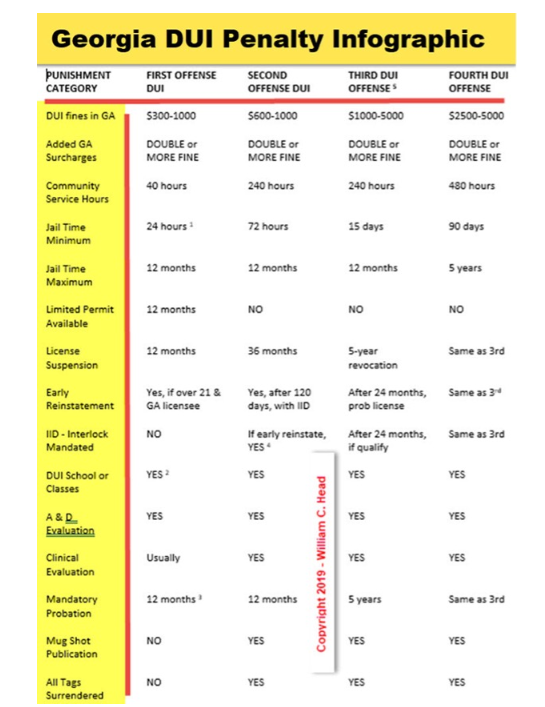 Even without a forensic test result (e.g., blood alcohol numeric readings), a driver can be convicted of DUI less safe. The Prosecutor's case would be based upon the driver's admissions, officer observations, roadside field sobriety tests, and any video footage verifying the officer's description of the errant driving.
With drug-related DUI arrests, the forensic results can support another "manner" of obtaining a conviction, for the driver being incapable of driving safely, due to smoking or ingesting drugs.
This primary DUI GA statute outlines minimum jail time for DUI, fines for being convicted, and sets forth a requirement to attend both DUI school and an alcohol and drug course. Repeat offenses are based on dates of arrest, as well as the number of days of community service.
The penalty for DUI Georgia ramps up significantly for a 2nd DUI in GA within 10 years. By way of example, a Georgia DUI 1st offense calls for jail time of "10 days up to 12 months." A second DUI in GA calls for "90 days to 12 months."
As opposed to other states like FL, TX, MI, MS and many others, the Peach State uses a 10-year lookback for repeat offense, mandatory enhanced punishments. Hence, a 5th DUI in GA that is the driver's DUI first offense within the past 10 years would be punished under the 1st offense DUI sentencing guidelines.
O.C.G.A. 40-6-391.1: Since 1997, eligibility to plead "no content" is restricted and use of a nolo contendere plea is discretionary with the judge. High BAC drivers (0.15 grams percent or more) and certain repeat DUI offenders prohibits a "nolo" pleas within 5 years of a prior conviction for DUI.
O.C.G.A. 40-6-391.2: The statute permitting the district attorney to seize and petition to forfeit s DUI driver's vehicle. That "property" is declared as contraband. This rule can apply to the motor vehicle operated by any habitual offender for having three (3) violations of OCGA 40 6 391, or a DUI-DWI from another jurisdiction.
O.C.G.A. 40-6-391.3: Special statute sets out felony penalties of 1 to 5 years in prison and fines of $1000 to $5000 for any conviction for being DUI while driving a school bus. The school bus need not have any children on board, either.
O.C.G.A. 40-6-392: Special section setting forth rules of admissibility and foundational requirements for State forensic equipment, like the Intoxilyzer 9000. These guidelines for scientific reliability apply to State chemical tests that are collected from crime suspects. Forensic tests may reveal alcohol, drugs, or other substances in his or her blood, breath, urine, or other bodily substances.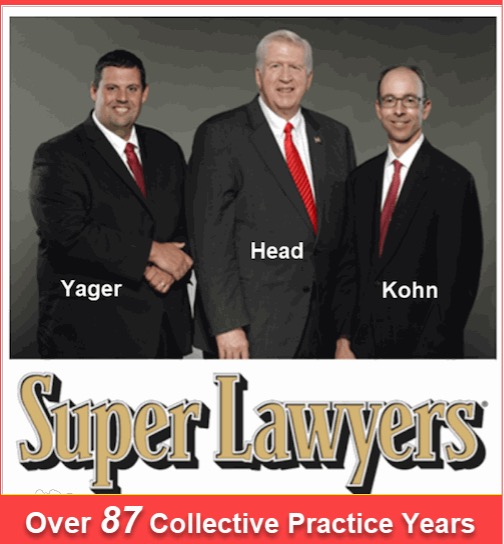 Our Award-Winning DUI Defense Lawyers and Legal Book Authors
Call today for your FREE consultation with one of our three award-winning Atlanta DUI defense attorneys near me. Our goal will be to protect your ability to drive, avoid jail time, and find a non-DUI disposition for your case. 404-567-5515.

What are you waiting for? The information you receive at no-cost from our lawyers near me FREE consultation may help you learn how your pending DUI case can be resolved in a favorable way.