DUI with Serious Injury in Georgia
By: Ex-Cop Cory Yager, William Head and Larry Kohn, Criminal Lawyers Near Me
In the State of Georgia, serious injury by vehicle (SIBV) will be a felony offense. Even a first offense DUI will be charged as a felony. Our state has no misdemeanor counterpart for minor traffic tickets, like running a stop sign or a red light violation.
Under OCGA 40-6-394, the two types of serious traffic violations that will support an indictment or accusation for SIBV are Georgia reckless driving under 40 6 390 and any type of driving under the influence under 40 6 391. The crime is only maintainable if another person has suffered serious bodily injury in a car accident with an impaired driver or a reckless driver, as proven from the direct and circumstantial evidence available to police.
The Language of the Serious Injury Felony Crime in Georgia
The statutory language of serious injury by vehicle GA is very abbreviated. The key wording within Georgia Code 40 6 394 is "through the violation of" driving under the influence or reckless driving GA. By reading over this language, you can get a good idea of the serious injury definition in the Peach State.
The statute reads as follows:
Whoever, without malice, shall cause bodily harm to another by depriving him of a member of his body, by rendering a member of his body useless, by seriously disfiguring his body or a member thereof, or by causing organic brain damage which renders the body or any member thereof useless through the violation of Code Section 40-6-390 or 40-6-391 shall be guilty of the crime of serious injury by vehicle. A person convicted under this Code section shall be guilty of a felony and shall be punished by imprisonment for not less than one year nor more than 15 years.
Then you are charged with DUI and they connect your DUI with a serious injury to another person. The injured person (or persons) can be a passenger in your car, it can be a pedestrian, or it could be a driver or occupant of another car, truck, bus or motorcycle. GA Code 40-6-394 cannot result in a conviction if the jury acquits on the underlying GA DUI or reckless driving charge.
Law enforcement will charge you with either or both offenses after a bad crash. The range of prison time is from 1 to 15 years, but the sentences can be "stacked" end-to-end consecutively by the judge sentencing the accused driver. In two different cases William Head has defended citizens indicted for 7 serious injuries and 10 serious injuries respectively in one motor vehicle wreck.
Insight Into Vastly Different Outcomes in Similar Cases
One case for a young female driver resulted in seven serious injuries. The head-on collision was caused by the client's car getting onto I-20 and going the wrong way. That act was reckless driving, but she also was accused of an alcohol-based DUI in Georgia. She hit an oncoming vehicle with 5 GA TECH students inside, while driving the wrong way on I-20 westbound near downtown Atlanta.
She faced one hundred and five (105) years of jail time if charged with a felony for each of the 7 people injured in the car crash. Fortunately, Attorney Head was able to resolve the case for misdemeanor offenses, and the client served no jail time.
The other client was not so fortunate in the bus crash with ten serious injuries in a DUI drugs case. The collision was a single vehicle wreck. The incident occurred on eastbound I-20. This rollover accident occurred outside the metro Atlanta area. At trial, the client faced up to 150 years in prison, so a negotiated plea with a "high-low" sentencing range was used to control a possible draconian sentence.
What is Serious Bodily Injury Under the GA Serious Injury Law?
Serious injury is only maintainable if, by the nature of the damage to the person, the injuries are serious in nature. A fractured or broken bone is a serious injury. Under Georgia case law, any scars resulting from a cut, compound fracture, burns, or stitches can be held to be a serious injury.
Organic brain damage can also qualify. If a victim is knocked out and loses consciousness this can be considered serious injury, if the jury determines that the crash caused memory loss. So, the interpretation of "serious injury" is liberally construed by Georgia courts, in favor of the victims.
What to do after a DUI Accident or Georgia Reckless Driving Injury or Fatality Crash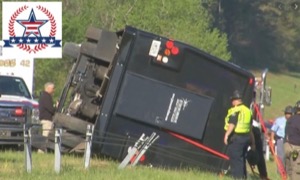 If involved in a serious wreck and facing a potential felony, you should do and say nothing. Your best bet is to request legal counsel immediately and repeatedly. The driver should not admit to having consumed alcohol or drugs regardless of the aggressive questioning by police.
In serious wreck cases, law enforcement officers are taught to get in touch with a specially trained DUI task force officer and let that person handle this potential felony case. These officers go through special training on how to get people to talk to them.
Many police officers use a tactic they learned in the academy called "verbal judo." This course teaches them to question a suspect and keep that person "off balance" through a series of rapidly delivered questions.
You also need to not agree to take a test until you can speak to an attorney. That's a very commonsense answer to a police officer if you're facing this serious charge. Your name and your address are all that is required to be given, under the Constitution. Other than that (which is showing on your driver's license), remain silent.
Until that driver can get advice from an experienced serious injury lawyer, he or she should not submit to any field test at the roadway. Moreover, unless first allowed to consult a criminal defense attorney near me, no agreement to take a forensic test of blood, breath or urine should be given.
If police try to get a warrant, then blood can be forcibly collected. You may have an implied consent issue for a DUI refusal to test. However, your serious injury attorney can deal with these issues later. Don't ever change your mind and consent just because an officer says, "We will get a warrant for your blood if you don't cooperate."
FREE Consultation via Video Conferencing or In Person – Call Today!
Vehicle crashes relating to a Georgia serious injury case happen most often at night. Therefore, our law office phones are answered 24 hours a day. Call today and speak with a criminal defense attorney at our law firm for your FREE lawyer consultation. (404) 567-5515
Our three award-winning criminal justice attorneys are ready to assist you by virtual meeting or face-to-safe. Our serious injury law group brings to the table the prior experience of hundreds of similar cases. Why risk your future on defense lawyers near me who have never tried a single felony DUI case involving serious injury?
DISCLAIMER AND PRIVACY POLICY
The information you obtain at this website, related videos, image resources, Facebook, Twitter or other social media content or blog postings is not, nor is it intended to be or provide, legal advice from a Georgia lawyer. This page is designed to help you find legal information, learn the basics about any criminal offense or court case in the state of Georgia, and then search for attorneys near me for your representation in GA.
You are well advised to consult an attorney for legal advice regarding your individual situation, and to obtain targeting help from an experienced lawyer in the community. Our Georgia lawyers invite you to peruse our site for answers to FAQs, charts, graphics and explanations of legal terms about Georgia laws. Then, call us today about out legal services. Our attorneys in Atlanta can interview you in person, or remotely via cell phone video conference or computer laptop or desktop interview. Our law group welcomes your email communication, chat responses, phone calls, letters and electronic mail, so that we can try to be of service in the areas of criminal defense when you contact us.
Our law office maintains a strict privacy policy, and if you don't retain one of our Georgia attorneys our law firm staff will shred your paperwork. Contacting us through any communication method does not create an attorney-client relationship until a fee agreement is signed and you hire a legal professional from our legal team.
Please do not send any confidential information to our GA attorneys through this website portal until such time as an attorney-client relationship has been established, and all terms and conditions or our retainer contract are agreed upon. If needed, clients may request a payment plan with our criminal justice attorney for payment of your legal fees.
Copyright 2020, by William C. Head. All rights reserved.