How to Pay a Georgia Speeding Ticket If You Are an Out of State Driver

If you were driving through Atlanta and got pulled over for speeding, you can pay your ticket online. But we highly recommend you fight your ticket in traffic court. The fact is that almost 95% of people who commit a criminal traffic violation in Georgia end up paying their ticket without a fight – or they don't pay it at all. But the GA Department of Driver Services (DDS) says not so fast! GA DDS will report your excessive speeding, reckless driving, following too closely, or failure to maintain lane offense to your home state's Department of Motor Vehicles (DMV office), and this can lead to your out-of-state license being suspended until you clear up the matter. With this in mind, it is important to consult with a Georgia speeding ticket attorney to lessen the consequences as much as possible through a strong defense.
Only 5% of drivers who are unfortunate enough to have the Georgia State Patrol (GSP) or the Atlanta Police Department pull them over and issue a moving violation will fight the ticket by returning to Georgia to attend their court date. Of these 5% roughly half will get their ticket dismissed entirely, have their fines reduced, or be offered a plea bargain deal. So, even if you fight your ticket and do not win, you are not out any more than you would have been in the beginning.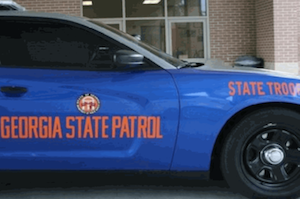 It is well worth it to contact one of our GA traffic lawyers who knows the court system and the personnel and has handled hundreds of traffic cases over the last 20 years. We also handle all kinds of DUI cases like misdemeanor and felony DUI drugs and alcohol and first offense DUI.
Remember, you are innocent until proven guilty in a court of law. The issuance of a traffic citation does not mean an automatic conviction. Yes, you were caught speeding 20 miles per hour (mph) over the posted speed limit. But was the radar gun calibrated correctly? Will the police officer show up for court? Were there any extenuating circumstances that led to your excessive speed?
Can My Out-of-State License Be Suspended by the Georgia DDS? Can I Still Drive in Georgia Legally?
Most states have a reciprocal agreement where they report traffic tickets to each other's DMV department. Your insurance company also may find out. If you do not pay your ticket by the due date listed on your citation paperwork, you risk being able to drive legally in Georgia until the issue is resolved. This includes renting a car for business. If Hertz or Enterprise runs your driver's license and there is a hold placed on it because of non-payment of a ticket, then you cannot rent a car, which will be hard to explain to your company.
Georgia does not have the ability to suspend your non-resident driver's license issued by one of the other states. For example, if you are issued a ticket for reckless driving on Interstate 85 north of Atlanta and you fail to pay the fine on time, you still can legally drive in your home state of New York, or Pennsylvania, or South Carolina. But if you get pulled over in Georgia again the officer will check his computer and see that you should not be driving in Georgia, and you will be issued another ticket – at a minimum. Why risk all this hassle and fear?
Talk to Larry Kohn, Cory Yager, or Bubba Head for 15 minutes and you will have a much better idea what to do next. Doing nothing will lead to more trouble. Paying the ticket without a fight is your choice if you can live with a driving violation conviction on your driving record and the higher insurance rates that usually come with it.
What NOT to Do If You Get Pulled Over for Speeding Again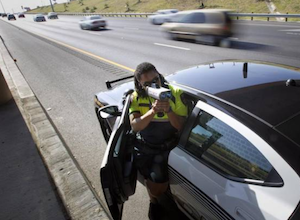 The best way to fight your speeding ticket starts when you are pulled over. It is important to be careful about what you say to the police officer. For example, if the officer asks if you know why you were pulled over, you should always say that you have no idea, as even saying something as simple as "I'm sorry" may be seen as an admission of guilt. Simply present the officer with your valid non-resident driver's license, and if your home address is different than what is printed on your license then give the officer your new address. Also provide proof of insurance – but only if asked. The officer has been trained to look for any signs of intoxication on your part, like slurred speech, dropping your license on the floorboard, or being belligerent.
Also, the officer will look for any signs of alcohol or drug use in plain sight within your vehicle, like an open container of alcohol, a bag of marijuana or a blunt, or other drug paraphernalia. Always be polite and cooperative, and do not open the glove compartment unless you ask first. Any passengers riding with you should not say anything especially not something like, "Officer, we're late for an office meeting so please hurry up." Cooperation during this encounter will increase the chance of a more favorable outcome in court.
After an officer hands you your ticket, take a few minutes to make some notes. Write down the make and model of the officer's car. You should also make notes about the weather conditions, who was in your car at the time, and the current driving conditions. These details will be useful in court. You can record these details on your cell phone if you don't have pen and paper handy.
Hire a GA Speeding Ticket Lawyer Who Knows How to Win Traffic Cases
You may want to have an attorney on your side to avoid the higher insurance rates that come with a speeding ticket on your record. A good attorney will be familiar with the prosecutors assigned to your case and will have further insight into having your ticket dropped or even reduced.
If you are interested in contesting your speeding ticket, contact our attorneys. They are experienced in defending clients with speeding tickets across the state of Georgia. Call today to discuss your case with someone who has over 20 years of courtroom experience fighting tickets.