Boating Under the Influence (BUI) Penalties Chart in Georgia
Drinking and boating is a popular summer ritual in Georgia. After many news reports of deaths on Georgia lakes, the Georgia General Assembly ramped up BUI punishment to equal DUI law penalties, including adding a 4th BUI felony. This BUI boating law has an effective date of May 15, 2013.
Every person convicted of violating the new boating laws in GA shall, upon a first or second conviction thereof, be guilty of a misdemeanor; upon a third conviction thereof, be guilty of a high and aggravated misdemeanor; and upon a fourth or subsequent conviction thereof, be guilty of a felony. All BUI offenses are subject to a 10-year "look back" period for counting repeat boating under the influence offenses.
Georgia BUI Penalties Chart
[For first offense BUI and for repeat offenses for Boating Under the Influence; Operators age 21 and over* (incurred within 10 years, based on dates of arrest)]
[© 2020 Form, layout and contents by William C. Head, Atlanta, GA]
| | First BUI | Second BUI | Third BUI | Fourth BUI or More |
| --- | --- | --- | --- | --- |
| Maximum Potential Jail Time | Up to 12 mo. | Up to 12 mo. | Up to 12 mo. | Up to 5 years |
| Minimum Jail Sentence | 24 hours* | 72 hours | 15 days | 90 days |
| Fines**, Surcharges and Assessments | $300-1000** | $600-1000** | $1000-5000** | $1000-5000** |
| Community Service | 40 hours | 240 Hours | 240 Hour | 480 Hours |
| Probation (minus any days served) | 12 months | 12 months | 12 months | 5 years |
| Alcohol/Drug Clinical Evaluation | YES | YES | YES | YES |
| Attend DUI Schools (to reinstate GA license) | YES | YES | YES | YES |
| When can conviction ever be Expunged? | Never | Never | Never | Never |
* Any convicted vessel operator with BAC level of 0.08 grams percent or higher from the post-arrest, implied consent law test. Underage drivers have more strident vessel operation restrictions and punishments.
** BUI surcharges and assessments can total up to 100% of the Fine Amount.
*** All suspensions and revocations of boating privileges must be served CONSECUTIVELY, so reinstatement or restoration is delayed until ALL are served. For a first BUI-drugs conviction, a 12-month suspension of boating operator privileges applies. For a second BUI-drugs within 5 years, a 3 year "hard" suspension applies. A revocation amounts to completely removing the convicted driver from the Georgia DDS records, so a person must start over once eligible.
---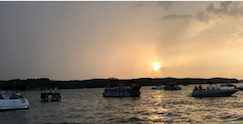 SPECIAL NOTE: Because a special GA BUI law on suspension of your privileges to operate a vessel requires anyone arrested for a Georgia BUI to file an administrative appeal within TEN (10) calendar days of arrest date, call today for a FREE consultation with a veteran criminal attorney near me. 404-567-5515
Boating in Georgia: Seek to Avoid a BUI Conviction by Retaining Experienced Legal Counsel
Have you been arrested for "drunk boating?" GA boating laws now criminalize BUI on Georgia's lakes and waterways with very harsh statutes, including a criminal record that cannot be expunged. Cory Yager, William Head and Larry Kohn stand ready to defend your legal rights in all courts across Georgia.
Our Georgia BUI lawyers near me can help you by providing a FREE consultation for your Boating Under the Influence (BUI) case. Plus, we will travel anywhere in Georgia to defend you.
Our law office lawyers are available 24/7 to provide help. Call today for our three Georgia Criminal Defense criminal attorneys near me: 404-567-5515. Prior to the recent change in the BUI laws, the comparison of statutes on BUI vs DUI were vastly different. Now, jail time for repeat offenders is the same as with driving under the influence.
Other BUI Page Links Worth Reading