Why a Grand Jury Indictment Is Needed for a Serious Felony?
By: Ex-cop, Cory Yager, Georgia Super Lawyers Award Recipient 6 Different Years
Both in the English common law countries and the USA, the indictment procedure of assembling a Grand Jury is NOT a trial, and the Grand Jurors have no power to determine "guilt." Beginning with the Magna Carta in 1215 A.D, the English people (over the next several centuries) routinely sought to create a "brake" on the unlimited power of the Crown (meaning the King of England or Queen of England).
One of those buffers or impediments against the Monarch's absolute power was to mandate (before any trial jury could occur) that a large group of county citizens had to agree with the Government about the sufficiency of evidence of criminal acts before a trial could be utilized to try to gain a conviction. The secret grand jury hearing would then be undertaken, with the District Attorney presenting the existing, known evidence in such a way as to have at least 12 of the grand jurors see that a felony indictment was supported by probable cause. When this occurs, a "sealed indictment" known as a true bill, would be issued. If fewer than twelve grand jurors vote to indict, a "no bill" is issued by that Grand Jury.
As can be learned in our primary grand jury indictment page, a Prosecutor can try again, with the next Grand Jury.
Indictment – What Does it Mean?
This "large" group of local citizens took on the name "grand," since the purpose was to have MANY in the group agree before any person could face capital punishment or possibly life imprisonment. The word "grand" was used, since a normal trial jury would have 12, and a grand jury would empanel 23.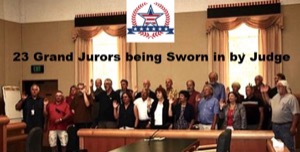 The value of such a barrier to overreaching by the Government did not escape the Founding Fathers in the mid-1700s in the American colonies. Our Bill of Rights contained this GUARANTEE, in one of the several "due process" rights created by the Fifth Amendment. Yet, none of the high standards of "proof beyond a reasonable doubt" apply to grand jury actions. The DA has virtually unbridled ability to affect the grand jury's decision to indict or not.
"No person shall be held to answer for a capital, or otherwise infamous crime, unless on a presentment or indictment of a Grand Jury, except in cases arising in the land or naval forces, or in the Militia when in actual service in time of War or public danger".
Ten Unusual Facts About How a Grand Jury Is Selected and Operates
Not all states use the Grand Jury system in their State prosecutions, but (due to the 5th Amendment of the US Constitution) all federal cases with serious felonies require federal court indictments. Georgia law only mandates the cumbersome indictment process for the most serious crimes that can result in execution. Yet, some county DAs use it in other serious felony cases, like sex crimes relating to "he said and she said" situations..
When a Grand Jury is selected, the process is merely to take the first listed citizens who are otherwise qualified under state law, by age (e.g. 18 and older), mental competency, a resident of the county for the requisite number of months (i.e., 6 months), and not have a prior felony conviction.
No guidelines exist for assuring racial diversity or gender diversity, but the historic "qualification" was that the grand jury must be selected from the "upstanding citizens of the county" and up until the early 1900s, this resulted in the panels being all men on grand juries. Grand Jury qualifications are found in O.C.G.A. 15-12-60.
No questions are asked about bias or attitude toward criminal justice matters, or relationship to court personnel, police, etc.
Typical state Grand Jury composition is between 16 and 23 grand jurors, and the term of service can be for 6 months or even a full year. Plus, in 205, the Georgia general assembly permitted the DA to apply for use of concurrent grand juries, under OCGA 15-12-63.
Not all Grand Jurors have to agree on issuance of a True Bill (meaning that a Grand Jury Indictment is sent to the District Attorney for prosecution), and 12 is the most common number required to indict.
If a grand juror has some familiarity with the crime scene or the accused person, that member of the panel is not disqualified or removed.
Each state can write its own rules and exceptions to the usual rules for indictment procedure of who can attend grand jury sessions, and who has the right to testify. In Georgia and several other states, if a police officer is the target of a Grand Jury indictment in Georgia under OCGA 15-12-61, he or she is permitted to testify, but all other citizens have no such right, as compared to when police are indicted.
Neither a court Judge nor any criminal defense attorneys are permitted to attend Grand Jury.
A Prosecutor cannot ignore the decision of the empaneled Grand Jury. But he or she is not precluded from waiting for the next Grand Jury to be sworn, for that county, and then try again to get a true bill against the suspected felon, and then move forward to a trial court, for the guilt-innocence phase of the case.
Contact One of Our Criminal Defense Attorney Partners
Although rare, some errors in the empaneling of a Grand Jury can void its actions. Certain qualifying questions must be asked by the Judge that empanels the Grand Jury. Plus, an analysis of who could serve on that Grand Jury may be fruitful in challenging the composition of the Grand Jury.
If a person learns that he or she has been indicted, or that an arrest warrant relating to an alleged crime is "active," he or she needs immediate legal counsel. Not being prepared for handling the person's release on bond can lead to a long list of adverse consequences, including loss of job, being put into a jail cell, and not being able to obtain all their prescribed medications.
Call today for a FREE lawyer consultation. Author Cory E. Yager, Larry Kohn or William Head are here to assist you. Our lawyers near me in metro Atlanta can help. (404) 567-5515.
When a felony DUI vehicular homicide Georgia occurs, or any other serious felony charge in Georgia (rape, aggravated assault, domestic violence felony in GA, drug possession, aggravated sodomy, DUI felony ), the usual steps are for police or investigators to make an arrest, based on an arrest warrant executed before a Judge. Then the accused citizen is placed in custody, subject to being able to make "bond" in most cases.
In cases that have been accused as a felony in GA, our goal is to find a fatal flaw in the language of the indictment. Once that is done, our strategy is to allow "jeopardy" to attach, once a jury is sworn in, and then move to dismiss the felony charge, which is called a nolle prosequi, if the DA realizes that he or she cannot succeed on that charge due to a failure of proof. In such cases, that "count" of an accusation or indictment can never be pursued again.
MAIN LAW OFFICE IN SANDY
SPRINGS, GEORGIA:
5590 Roswell Road
Suite 210
Sandy Springs, GA 30342
(404) 567-5515
DOWNTOWN ATLANTA GA
LOCATION:
235 Peachtree Street NE
Suite 400
Atlanta, GA 30303
(404) 567-5515
MARIETTA, GA LOCATION
in Cobb County, GA:
109 Anderson Street
Suite 103
Marietta, GA 30060
(888) 274-6288
ALPHARETTA-ROSWELL-MILTON
LOCATION
in North Fulton County, GA:
33 S Main St #302
Alpharetta, GA 30009
(844) 867-2889