Nolle Prosequi GA: Reasons to Dismiss a Criminal Case
By: Criminal Defense attorneys – Ex-cop Cory Yager and Larry Kohn, Partners in an Award-Winning Law Firm Near Me in Metro Atlanta GA
The most common reason for dropping charges by way of a disposition nolle prosequi is some failure of evidence being available at the time a criminal case is about to go to trial. A missing witness is one common issue that charges cannot be proved and a nolle prosequi filed. In some of our cases, where a strategic advantage can be obtained by using a speedy trial demand, this statutory tool can help "close the door" on new accusations being filed.
Our US Supreme Court in a 1967 case [ Klopfer v. North Carolina, 386 U.S. 2013 (1967)] sided with the accused on issues of unlimited delays from having a speedy trial in re-charging a citizen for whom a nolle prosequi NC had been granted. The State of NC then left the dismissed to linger indefinitely, under North Carolina laws at that time, which the accused citizen protested against.
Also, where scientific evidence is a key part of the prosecution, is that forensic proof no longer admissible due to the unavailability of the chemist or exclusion of that key piece of evidence for trial? This linchpin may have been eliminated during a pretrial motion ruling. If that ruling is final and not appealed, then the Solicitor General or district attorney may have re-evaluated the remaining proof and deemed fatal flaw in his or her proof.
One famous nol pros by the US Justice Department happened for Osama bin Laden in the USA. In 2011, as a result of his "termination" by the US Navy Seals Team, charges against him were dropped by the federal prosecutor's entry of a nolle prosequi in the Southern District of New York federal court.
In Georgia, When is Nolle Prosequi a Good Thing?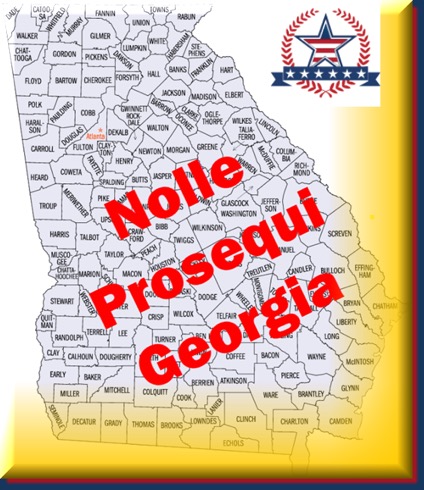 The short answer is "almost always." Care must be taken by your criminal lawyer near me to not accept the nol pros and then you face prosecution for the same offense later. After a jury is sworn in the Peach State, accepting that Georgia nolle prosequi could waive double jeopardy. The better trial court strategy is to let the issue go to the jury. These types of important strategy issues show the value of experienced trial counse l when the chance to block the prosecutor in a criminal trial is available.
A prosecutor may elect to voluntarily drop all charges for a variety of reasons. Usually, this disposition of the case is tied to a failure of proof caused by a missing or dead witness. In 2003, the sexual assault case against the late Kobe Bryant was dismissed after his accuser refused to testify in the Colorado case. A separate civil suit was later filed against Bryant by the woman.
This disposition of the case is done prior to going to trial (or in the middle of finishing a trial, in some rare cases). Dismissal signifies that the DA will no longer prosecute this matter as it was originally accused, under this accusatory document. Typically, some fatal flaw in the perceived quality of proof has been uncovered.
Yet in specific cases the Prosecutor may have a different motivation to nol pross some unusual criminal cases. By this we mean that the general rule is that the same defendant COULD BE recharged. For that to happen, a missing witness or new evidence typically must materialize. For example, if a suspected weapon in a homicide case is never found, this missing item may be pivotal to the State's case.
This has been adapted to modern criminal law practice across the United States on criminal charges, with a myriad of local rule adaptations of verbiage and abbreviations in a criminal case within that jurisdiction. By way of example, with a nolle prosequi Florida case, the shortcutnol pros may read "Dismissed SAO," for dismissed State Attorney's Office. Another local practice in Florida is to mark the accusation or indictment "nol pros code 4" to signify that the misdemeanor or felony case may be re-accused.
Information About Unusual Dismissals in Nolle Prosequi Georgia Cases
In one Gwinnett County GA case, a DUI suspect was pulled over on I-85 northbound by a DUI task force officer, with both cars stopped adjacent to the center retaining wall. When the law enforcement officer sat back in his patrol car, after processing paperwork on the Georgia DUI case and waiting on a tow truck, another drunk driver piled into the rear of that police vehicle, causing fatal injury to the Gwinnett officer.
The second driver that struck the officer's patrol vehicle ran from the scene and was later captured. But the original suspect who was being cited for DUI in Georgia by the stricken officer immediately tried to lend assistance to the fatally injured officer, who was still breathing after the horrific crash. This man remained at the scene and summoned medical help.
Subsequently, the District Attorney of the county opted to enter a nolle prosequi GA of the initial DUI suspect's pending drunk driving case as an acknowledgement of
his heroic efforts to try to save the fallen policemen. The voluntary dismissal justified ending the related misdemeanor DUI prosecution and having the right for record restriction in GA.
In other cases that our law firm has handled, taking quick action to file a statutory speedy trial demand under OCGA 17-7-170 has yielded excellent results. When a Superior Court judge failed to dismiss charges against a client involved in a vehicular homicide GA, William Head appealed the case. This resulted in a discharge and acquittal of all but one remaining felony count. Upon remand to that new trial judge, that last charge was dismissed under a theory called equitable estoppel. The client had every criminal "count" dismissed.
Four other state statutes for nol prossing criminal charges are shown in the bottom links of this page. Plus, another article within this website has a great description of the nolle prosequi meaning in Georgia.
Since the 800 years-old common law phrase nolle prosequi is never heard outside of a courtroom, a nolle prossed definition is hard to come by. Few legal terms have as many misspelled versions and abbreviations, including these:
nolle prose
noelle prosequi
noelle prossed
null prossed
null pros
null processed
nolle pros meaning
N.P.
Nol Prossed
Experienced Trial Attorneys Near Me for Aggressive Defense of Criminal Cases
Contact Cory Yager, Larry Kohn, and William Head for your criminal defense in Georgia. Our lawyers near me bring over 77 years of criminal law contested cases to the table, led by veteran criminal litigator William Head. Plus, our law office provides a FREE consultation to go over the details of your case and provide guidance on how to protect your driver's license. Call today at (404) 567-5515 for a FREE lawyer consultation.
Our legal team all have become published law book authors in the field of criminal law in national legal publications. Why look any further, since the case evaluation is FREE?